CE/CME Training: Laser and IPL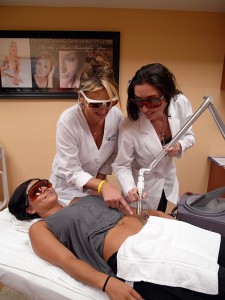 National Laser Institute has been educating health professionals on non-surgical cosmetic procedures ranging from BOTOX® and laser hair removal to advanced light based procedures (Fractional, radiofrequency, tattoo removal and more) for years! We are proud to have the reputation as the leading training center in North America. National Laser Institute will be opening new locations across the country.
The courses are lead by leading Dermatologists, Cosmetic Surgeons, and some of the countries most sought after Clinical Laser Trainers.
Our laser course provides hands-on demonstration and clinical training. Every student will acquire proficiency in performing light based cosmetic procedures. The class begins with lectures on laser biophysics, tissue interaction and safety covering both clinical considerations as well as important issues that enhance communication between the provider and the client. This course will also enlighten the participant on how to build a practice and capitalize on the enormous cosmetic market that now exists in the United States. Our business and marketing class informs will help you learn how providers are discovering their niche in this industry. Below is a list of the course objectives as well as sample agenda for the day. Please feel free to contact us with your questions or if you wish to sign up for the course.
Earn 8.5 AMA PRA category 1 credits TM per day of class*
Why is National Laser Institute the leading medical aesthetics training school in the U.S.?

Dermatologist and cosmetic surgeon lead classes
Most comprehensive: Up to 7 days of training
5 expert instructors in each course

Luxury retail medical spa setting
Business development/ marketing seminars
Overview Agenda
Day one: Laser (didatic, laser hair removal and IPL) Saturday 8:30 am to 6:00 pm

(9 hours of instruction)

Introduction to medical aesthetics
Laser bio-physics
Tissue interaction
Safety
Hands-on clinical practice: permanent hair reduction laser/IPL
IPL photo-rejuvenation
One hour adding medical aesthetics to your practice

Day two: Advanced laser procedures (clinical training) Sunday 8:30 am to 6:00 pm

(9 hours of instruction)

Radiofrequency
Fractional
Hour lunch seminar: Adding medical aesthetics to your practice
Tattoo reduction
Vein reduction
Cosmetic practice builder BOTOX® and dermal filler overview
Attendees will receive a course manual consisting of marketing tools, necessary supporting forms such as history, consent, and policy/procedure and most importantly a Certification of Training upon completion of course.
Course Objectives
At the end of the laser training course, the student should be able to:
Restate the basics of laser biophysics including: physics of light, wavelength, laser mechanics, energy concepts, pulsing concepts, and impact vs. spot size.
Explain the fundamentals of how a laser interacts with tissue including: tissue heating and heat transfer, absorption, non-linear effects, photochemistry.
Report on how different types of light based devices interact with the skin in non-surgical procedures.
Assess, list and review common hazards, laser safety, and regulations stipulated by National, State, and Local regulatory agencies.
Observe and demonstrate competency performing laser and Intense Pulsed Light treatments for hair removal.
Formulate specific communication techniques to enhance the provider client relationship in consultations and treatment settings.
In addition to the objectives above, the student should have observed and should be able to demonstrate capability in the following treatments:
Permanent hair reduction
Intense Pulsed Light skin rejuvenation
Fractional 1040 wrinkle reduction
Radiofrequency skin tightening
Vein reduction
Tattoo reduction
Class Schedule
Classes are offered every month, click here to view our course schedules.