How To Earn Your Medical Esthetician Certification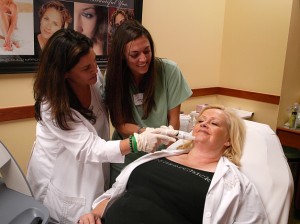 Medical professionals across the nation have been considering earning their medical esthetician certification.
A medical esthetician certification allows you to perform a wide variety of nonsurgical cosmetic treatments, including Botox, dermal fillers, and laser hair reduction–all of which have earned a spot as some of the top nonsurgical beauty treatments within the U.S.
In order to add these services to your practice, facility, or skill set, you need a medical esthetician certification.
National Laser Institute is the leader in the medical esthetics industry and provides a comprehensive medical esthetician course for those who want to cover multiple cosmetic treatments within one class time and earn their medical esthetician certification. This particular course combines hands-on training on scheduled clients along with classroom learning and instruction by some of the top medical estheticians in the field.
The comprehensive medical esthetician course only takes 10 days to complete in order to gain your certification and covers the following objectives.
Comprehensive Medical Esthetician Certification Course Objectives
Esthetics overview
History of treatments
Aging process
Botox and dermal filler injectable overview
Cosmetic laser treatment overview
Sclerotherapy overview
BHRT training
Hands-on training with these services
Pre and post care treatment
Client selection
+More!
About National Laser Institute
We are the leader in the medical esthetics industry and the first school who pioneered the cosmetic laser training curriculum that other laser schools use across the nation. We are recognized as the Harvard of all the medical esthetician schools and have earned many outstanding student reviews. To learn more about medical esthetician certification or National Laser Institute, please call 480-290-7399.