How Can eMatrix Improve My Skin? Find Out During Laser Training!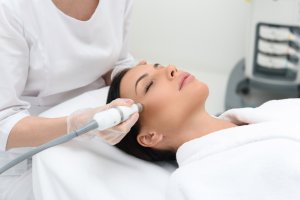 Do you wake up in the morning and notice dry, crepey skin from sun exposure?
eMatrix skin rejuvenation is the perfect skin care treatment to stimulate new collagen production and even out your skin's appearance.
If you are considering a career change, you can learn eMatrix and other laser treatments in just two weeks with aesthetics training at National Laser Institute!
How does eMatrix work?
eMatrix is a laser skin resurfacing treatment that gently resurfaces the skin. It's a sublative rejuvenation treatment, meaning it's non-laser and non-light based. eMatrix can be used on nearly any part of the body, including the hands, chest, and neck.
During cosmetic laser training, you will learn that this cosmetic treatment uses bipolar radiofrequency energy to penetrate through the skin, sending energy beneath the skin's surface to maximize collagen production all while keeping the skin intact.
Sublative treatments create a smoother complexion and treat common skin concerns like acne scars, skin tones, mild wrinkles, sun spots and more! eMatrix can benefit your clients by:
Stimulating collagen production in scars and even out the appearance of the skin.
Reducing shallow to middle depth acne scars and narrow stretch marks for all skin types.
Reducing wrinkles, tightening the skin, and even lifting the skin with less downtime than traditional skin rejuvenating treatments.
On average, this procedure takes about 10 to 20 minutes, depending on the size and area being treated. Post-treatment tone and texture improvements will be visible as a result of increased levels of beneficial collagen and new healthy skin cells that are produced.
During your certification to become a laser tech, you will learn typical treatment protocol is three to five treatments, four to six weeks apart. The total number of required treatment sessions depends on the condition of the skin and the desired aesthetic results.
Laser Training at National Laser Institute
Are you interested in helping people look and feel their best? Then a career as a laser technician may be right for you! At National Laser Institute, we offer several cosmetic laser courses that can be completed in just two weeks!
Our Comprehensive Laser Course will teach you the most in-demand laser treatments, including laser hair removal, laser wrinkle reduction and laser tattoo removal.
The first half of your training will be spent in the classroom where you will learn things like facial anatomy, tissue interaction, and pre- and post-patient care. This will prepare you for your hands-on training in our luxury medical spa.
The remaining days will be spent doing clinical hands-on training in our educational setting. We have over 150 employees with a dedicated team that schedules clients for you to work on. During hands-on training, you will watch live demonstrations and get the chance to perform these treatments yourself to gain real-world experience.
By the end of the course, you will feel comfortable and confident to administer laser treatments for any skin type in a variety of medical aesthetic setting, including medical spas, doctor's offices and other medical practices.
To learn more about attending esthetics school at National Laser Institute, fill out the form on your right or give us a call at 1-480-290-7399.