After Esthetician School: Medical Esthetics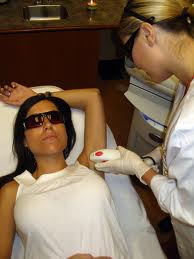 Whether you're fresh out of esthetician school or have been an esthetician for years, we think there's something you should know. The health and beauty world doesn't stop at esthetic treatments. Facials, wraps, peels, waxing, and tweezing are all beneficial to skincare, but with the advancements in technology there has been a demand for a new kind of beauty: medical esthetic and cosmetic laser treatments.
What exactly are cosmetic laser treatments? These refer to popular services like laser hair reduction, radiofrequency wrinkle reduction, IPL skin rejuvenation, laser tattoo removal, laser cellulite reduction, laser acne reduction, and much more. While esthetic treatments do help improve skincare, many cosmetic laser treatments can be used in combination with other esthetic treatments (such as peels + IPL photofacials). But adding cosmetic laser treatments also allows you to earn more clientele who prefer one treatment over the other, such as laser hair reduction each month versus waxing each month. This way, as a skincare specialist, you aren't missing out on clients and therefore aren't missing out on earning more cash!
Medical esthetic treatments typically refer to Botox, dermal fillers, sclerotherapy, and other noninvasive cosmetic injections that are used to enhance and rejuvenate skin. In order to practice medical esthetic treatments like Botox, however, you must have a background as a medical professional because you are injecting clients. Medical professionals who are also licensed estheticians can truly benefit from this, especially since there is no hassle of insurance on cosmetic treatments!
The best part of medical esthetics and cosmetic laser training is that certification takes two weeks or less to complete! This means you can be on your way to treating clients with these services in no time.
Medical Aesthetic School
National Laser Institute is a leading medical esthetic school that offers both medical professional courses and cosmetic laser technician training courses.
Our medical professional courses provide hands-on training and certification with Botox, dermal fillers, sclerotherapy, laser treatments, skin rejuvenation, BHRT, and more. Courses can be taken as comprehensive or treatment-based. These run from 1-full day of hands-on training to 12 days of hands-on training.
Our cosmetic laser training course is a comprehensive two week course that includes hands-on training with a variety of in-demand laser services: laser hair reduction, photofacials, radiofrequency wrinkle reduction, cellulite reduction, acne removal, and more! Attendees will learn both in the classroom and in a luxury medical spa setting where they will have hands-on training with treatments and practice on scheduled clients in order to gain the confidence and skillsets they need to perform treatments on their own clients.
Our courses are taught by leading experts in the field of medical esthetics who have had years of experience in this industry. Our medical esthetic school has been around for over a decade, and we've earned many outstanding reviews. We are also recognized as the Harvard of laser schools across the nation and have earned a gold standard of education. Most importantly, we are dedicated to helping our attendees succeed in this market!
Medical Aesthetic Careers
What can do you as a medical esthetician/laser technician? We've seen hundreds of our graduates go and work for doctor's offices, dermatology clinics, medical spas, OBGYNs, health centers, and even open up their own spa/business!
After you earn your certification, the only way to go is up! You're able to treat more clients with different skin concerns, earn more money by providing more treatments, and perhaps work in facilities you weren't able to before!
If you'd like to learn more about National Laser Institute, medical esthetician school, or our courses, simply fill out the form to your right or call us at 480-290-7399.