Intense Pulsed Light (IPL) Training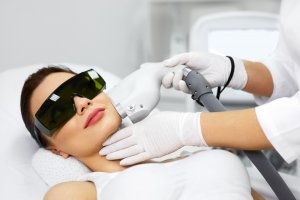 Receiving Intense Pulsed Light (IPL) laser training is a must for anyone entering the field of medical aesthetics.
IPL is considered a newer innovation in the health and beauty field, but it is quickly becoming the method of skin rejuvenation and hair removal that is preferred by most clients.
This cosmetic procedure is non-invasive and almost entirely pain-free. Since it offers results that can last up to a year or more, thousands of people looking for younger, smoother skin are requesting this cosmetic laser treatment.
What are IPL Treatments?
IPL is a cosmetic treatment that stands for intense pulsed light. It is a type of light therapy that can address several skin conditions without injuring the skin's surface. Ideal for wrinkles, spots and unwanted hair, IPL can minimize or remove age spots, sun damage, varicose veins, rosacea and more!
When IPL laser treatments are used on the face for rejuvenation purposes, they are commonly referred to as photofacials. However, students in medical aesthetics school learn that photofacials can be used on just about any part of the body, including the back, chest, neck, arms and hands.
In a typical treatment, the skin is covered with a cooling gel that allows the handheld laser instrument to flow smoothly around the area that is being treated. Anesthetic is not usually necessary, as the most sensation that's typically felt is like a gentle pinch.
The IPL beams break up the pigments underneath the skin. After four to six treatments of 20 minutes each, the treated pigments start to flake off the skin, leaving clear, smooth skin behind.
IPL is similar to a laser treatment; however, a laser focuses one wavelength of light at your skin, while IPL releases light of several different wavelengths.
IPL Training for Photofacials and Hair Removal
IPL laser training is also essential in performing permanent hair removal. This procedure involves several steps:
The IPL beams are focused on the area to be treated
The beams target hair follicles in the area and destroy their ability to grow more hair
Hair becomes sparser with each treatment until no more new hair appears
Several medical aesthetics schools across the country offer cosmetic laser training, focusing on the most popular skin treatments. National Laser Institute offers a 2-week laser course where students will learn:
The fundamentals and basics of laser physics
The Fitzpatrick scale and tissue interaction
Client screening and candidacy
Operating a laser safely
Understanding the clinical applications of lasers in the industry
Clinical hands-on training with treatments like laser hair removal, tattoo removal, radiofrequency skin tightening and more!
IPL Training at National Laser Institute
If you are looking to start a new career in the multi-billion-dollar medical aesthetics industry, National Laser Institute is the answer!
With over a decade of excellence, we pioneered the cosmetic laser training industry with comprehensive training in things like IPL laser hair removal and photofacial treatments.
Each course combines didactic education and clinical hands-on training for the ultimate learning experience. In the classroom, you will learn things like the Fitzpatrick scale, contraindications, patient care, types of lasers and more! Clinicals take place in a medical spa environment where you perform treatments on real clients to gain real-world experience.
By the end of a cosmetic laser course, you will feel comfortable and confident performing several procedures, including laser hair removal, IPL photofacials, tattoo removal, radiofrequency skin tightening and more!
For more information about cosmetic laser training at National Laser Institute, fill out the form to your right or call 800-982-6817.