Learn How To Treat Crepey Skin During Laser Training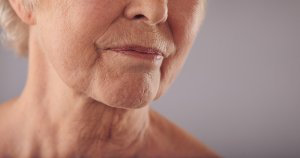 Some call it a turkey neck; others call it elephant skin. Whatever term you use to describe the area beneath your chin, there is one thing everyone can agree on: Crepey skin is not in!
The medical aesthetics industry offers several non-surgical options to prevent neck sagging. These treatments can be done in-office and provide measurable, immediate results to your clients.
Are you ready to begin a career in this $16 BILLION medical aesthetics industry? Here is everything you need to know about laser treatments for crepey skin once you become a cosmetic laser technician!
Tighten & Tone Lax Skin
In the health and beauty industry, much of the focus is on preserving the face. But what about the neck?! Believe it or not, your neck is one of the first body parts to age and happens for a couple of reasons.
Your neck contains fewer oil glands than the face. Natural body oil preserves skin hydration, so your neck will appear to age faster than the face. If you couple this with constant twisting and turning plus sun exposure, you will start to notice saggy or crepey skin.
This skin condition is often called elephant skin because it mimics the crinkly skin of elephants. Similar to wrinkles, crepey skin impacts larger areas on the face, legs and inner arms.
While several skin care products can address papery skin, clients frequently turn to professional treatments for crepey skin. This is where a trained cosmetic laser technician comes in!
Laser Treatments For Aging Necks
Cosmetic laser treatments are the best solution for neck wrinkles, crepey skin and other skin concerns. Medical esthetics schools like National Laser Institute offer comprehensive laser training for those interested in becoming cosmetic laser techs!
As a skin care professional, you will be experienced in several aesthetic treatments for anti-aging concerns. You will also be knowledgeable about laser treatments for crepey skin:
Radiofrequency (RF) Skin Tightening. A handheld device sends RF energy into the skin to heat tissue and stimulate collagen production to reduce the appearance of fine lines and loose skin.
eMatrix. A sublative treatment, eMatrix gently resurfaces the skin by sending energy beneath the skin's surface to tighten and retexturize the skin in the same procedure.
Microneedling. Microneedling is a micro-injury treatment that creates micro-channels, which allow serums and skin care products to absorb into the skin during its natural healing process.
1064. A non-ablative treatment, the 1064 laser technology does not ablate the top layers of the skin, but it creates a more youthful appearance from the inside out.
Cosmetic Laser Training at National Laser Institute
If your #CareerGoals include a gig where you can help others look and feel their best, medical aesthetics is a perfect fit!
With over a decade of excellence, National Laser Institute has taught thousands of career changers, estheticians, cosmetologists and more how to become cosmetic laser technicians in the lucrative $16 billion industry!
Each medical aesthetics course includes classroom education and hands-on clinical training for the ultimate experience. We want you to feel comfortable and confident in the training you receive so that you can provide your clients with the best treatment possible.
In the classroom, you will learn things like the ABC's of laser, the Fitzpatrick scale, laser physics and disorders of the skin. This will prepare you for clinicals that take place in a medical spa environment where you will treat real clients that we schedule for you!
During cosmetic laser training, you will learn several anti-aging treatments like laser hair removal, laser tattoo removal, skin tightening, body contouring, acne reduction and more!
If you would like to learn more about cosmetic laser courses at National Laser Institute, fill out the form on your right or give us a call at 1-480-290-7399.