When Considering Cosmetic Injections, Proper Training Is A Must!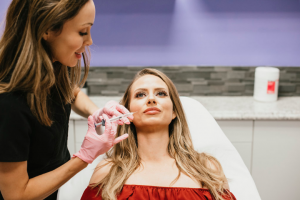 Hollywood elites are credited for propelling cosmetic injections into the spotlight nearly a decade ago in their quest for perfect skin and fuller lips.
Today, however, celebs and reality TV stars aren't the only ones seeking Botox, dermal fillers and the like. In 2017, over 17.5 million minimally invasive cosmetic procedures were requested by men, women and even millennials.
Skin care specialists in the medical aesthetics industry find most of their clients seek non-invasive treatments to look and feel refreshed, as well as achieve a self-esteem boost!
For physicians or nurses thinking one day they would like to transition to the aesthetics side of the business, Botox training is a must!
Botox Training Is A Must
Botox is the most popular cosmetic treatment and an essential part of aesthetic medicine. Medical practices that offer aesthetic treatments like Botox and dermal fillers can earn significant profits by adding these procedures to their list of services.
If you are interested in expanding your skill set to include cosmetic injections, training is a must! Medical professionals can earn their Botox injection certification by attending a medical esthetics school like National Laser Institute.
Not only will you receive classroom education, but you will also gain valuable hands-on practice during Botox injection training. CE/CME education is essential for providing your future clients safe and effective treatments.
Injection Techniques For The Best Results
During Botox training, one of the most important things you will learn is proper injection techniques. Administering Botox too close to the orbital rim, for example, may result in a brow and/or eyelid ptosis (drooping) during a Botox brow lift.
A dermal fillers lips treatment requires the injector to tent and aspirate. These techniques help avoid the vascular supply and avoid complications like skin necrosis, ulceration and scarring if an intra-arterial injection of filler occurs.
Other injection pearls medical professionals learn during a Botox training course include:
When treating around the eyes, inject obliquely to the skin to lessen the chance of deep injections or injuries in case a client suddenly moves.
Pinch or gently rub the adjacent skin to minimize patient discomfort by "confusing" the sensory sensation of the injection.
To reduce the risk of bruising and inflammation, inject into the subcutaneous tissue planes.
Stretch the skin in the lower orbicularis area to direct the Botox in the subcutaneous plane.
Botox Training at National Laser Institute
Are you ready to supercharge your earning potential by offering your clients Botox and dermal fillers treatments? Now is the time to enroll in Botox training at National Laser Institute.
A pioneer in the medical aesthetics training industry, National Laser Institute offers CE/CME training courses that can be completed in as little as a weekend up to two weeks of training. Each course includes classroom education and hands-on clinical training for the ultimate learning experience!
Classroom education consists of learning things like facial anatomy, types of injection products, patient care and contraindications. This will prepare you for clinicals in our training environment where you will be placed in small, intimate groups and watch comprehensive demonstrations. After, you will administer treatments on scheduled clients to gain real-world experience.
By the end of your course, you will feel comfortable and confident in performing cosmetic treatments like Botox, dermal fillers, platelet-rich plasma (PRP), Kybella and sclerotherapy.
We invite you to check out tens of thousands of National Laser Institute reviews from previous attendees like Dr. Ryan Krch who took several of our CE/CME courses. You can hear about his training experience in the video below!
If you would like to learn more about continuing education for medical professionals at National Laser Institute, fill out the form on your right or call 1-480-290-7399.