Why Doctors Are Adding Medical Aesthetician School Practices to Their Business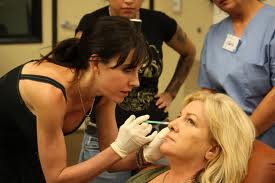 The medical aesthetics industry is a billion dollar marketplace that has been on the rise for the last few years. In fact, just last year there were over 6 million Botox injectable treatments performed just in the United States and over 1 million laser hair removal treatments. It's not surprising that people want faster and more effective treatments that will rid their skin flaws without the downtime, and the medical aesthetician industry continues to help perfect that.
Here are the three main reasons why many doctors attend medical aesthetician school in order to add the top cosmetic laser and injectable services to their practice.
Clients Trust You With Their Health, and Will Trust You With Their Skin
If you're a medical professional who has clientele that always comes to you specifically for their health care concerns, that means they value and trust you. In the case of Kristen Cortland, she told CNN that when her mom was mailed a postcard from her OBGYN announcing that she was adding on cosmetic services, she stated that since "she's a really good gynecologist, I assumed she'd be good at anything she did."
You're the expert, so get the expert knowledge on medical aesthetic services in order to better serve your clients. They trust you and with the right training, you'll be able to give them skin that they'll feel confident in.
What Insurance?
Along the business aspect, many medical professionals receive medical aesthetics training because nonsurgical cosmetic treatments like laser hair removal or laser tattoo removal aren't covered by insurance. This means that if you charge a client $500 for a quality laser skin care treatment, you make $500. Insurance isn't a factor with cosmetic treatments, which is why many medical professionals find that it can benefit their business.
Getting With The Times
It's no surprise that Hollywood has glamorized laser treatments. Lea Michele and Megan Fox have openly talked about their laser tattoo removal treatments while Kim Kardashian has raved about how she loves laser hair removal. More medical facilities are adding or incorporating medical spas within their healthcare clinics in order to best serve clients who want state-of-the-art treatments, which is why many medical professionals have looked into laser training at medical aesthetician schools.
The Right Medical Aesthetician School for You

If you're a medical professional wanting to become trained in medical aesthetics, National Laser Institute is for you. They offer medical professionals laser training and cosmetic injectable training courses that range anywhere from 1 day to 2 weeks, depending on the type of training they are looking for. Courses include hands-on training with laser equipment on scheduled clients, as well as Botox injection training and dermal filler training on clients as well. Classes take place classroom settings and are taught by experts in the field, and clinical portions take place within a luxury medical spa environment. CE/CME credits are upon completion of courses.
To learn more about medical aesthetician schools or National Laser Institute, please call 480-290-7399.