How to Become a Medical Aesthetician with Medical Aesthetics School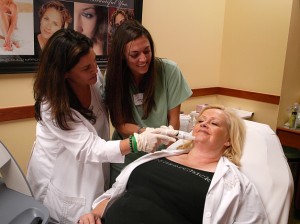 The medical aesthetics industry has been growing over the past decade. Laser skin resurfacing is one of the most requested procedures, and Botox and dermal fillers are ranked as No. 1 and No. 2 within the nonsurgical cosmetic treatment performance category.
But why medical aesthetics? We live in a busy world, and people don't have the time to waste with procedures that require downtime and that are costly.
Medical aesthetic treatments are fast, efficient, require no downtime, and are cost-efficient to the consumer. Because of the high client demand, many people are receiving cosmetic laser certification. Here's how you can become a certified medical aesthetician within two weeks.
How To Become A Medical Aesthetician
Medical aestheticians are similar to spa aestheticians, but instead of working in a salon or spa, they typically work in a medical environment. They can perform several jobs, including helping patients reduce swelling after surgery and a wide range of treatments for improving the skin. These treatments can include Botox, laser hair removal, laser wrinkle reduction, dermal fillers, laser acne reduction and laser tattoo removal. Medical aestheticians are able to find jobs within dermatology clinics, doctor's offices, spas, medical spas, independent businesses and so much more.
We often recommend that you receive your medical aesthetician certification before attending an aesthetic training school. This is because aesthetician school takes roughly 5 to 6 months to complete whereas it takes approximately two weeks to complete training at a medical aesthetician school. Aestheticians only focus on skin on a surface level, which means waxing, tweezing, facials, peels, wraps and more. Medical aesthetics gives you training with cosmetic lasers and/or injectables.
In order to become a medical aesthetician within Arizona, you must have completed the mandatory prerequisites. You must have either a high school diploma or GED to enroll, and you must be a medical professional if you want to become certified in cosmetic injectables. You must also take a laser safety training course within your cosmetic laser training program to meet all state regulations as well as meet the requirements for hands-on training. If you want to be able to perform tattoo removal, you must take a laser hair removal course hand-in-hand within that program.
For aspiring medical aestheticians, the Comprehensive Laser Course is one of the most sought-after courses at the National Laser Institute. Students will learn within a clinical and didactic environment from experts in the medical aesthetic field. Some of the modalities students will learn include laser hair removal, laser wrinkle reduction, photofacials, laser acne reduction, stretch mark removal and so much more. This course includes hands-on training with scheduled clients in order to meet the approved clinical training time as well as in-classroom lectures featuring tissue interaction, laser safety and skin treatment plans.
Medical Aesthetics Training At National Laser Institute
If you are looking for an exciting career opportunity where you can help others look and feel their best? A career in medical aesthetics as a cosmetic laser tech might be a good fit!
With over 15 years of excellence, the National Laser Institute has taught tens of thousands of aspiring medical aestheticians looking to enter the multi-billion-dollar industry. As the leader in medical aesthetics education, students seek quality laser training from us in order to become a certified medical aesthetician to start working in the field.
During medical aesthetics training, students will learn the most popular nonsurgical treatments, helping their clients love the skin that they are in! Classroom education includes in-depth knowledge of how lasers work, how to treat unwanted hair, clinical applications in the industry, hair removal techniques and so much more. Hands-on training takes place in a medical spa environment where students watch comprehensive laser demonstrations and treat scheduled clients to gain real-world experience!
Upon course completion, students will have access to our Graduate Services Department, which sends out hundreds of job leads per month to our alumni across the country! Previous students have found work in laser & niche clinics, medical spas, physician's offices, salons and even fitness centers!
To learn more about medical aesthetician schools or National Laser Institute, please call 1-480-290-7399.