Medical Esthetician School for Doctors and Nurses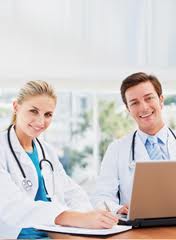 42% of people aged 35-50 want to slow down the hands-on time through anti-aging and skin rejuvenation treatments, most undergoing surgical or nonsurgical treatments. 48% of people between 35-50 have wanted or received Botox, Dysport and other anti-aging injection treatments. Because of the high demand for cosmetic laser and cosmetic injectable treatments in the last decade, more and more medical professionals have been seeking out medical esthetician school in order to receive Botox injection training, laser training, and more.
Medical Estheticians vs Estheticians
Medical estheticians are different from estheticians. Medical estheticians concentrate on both the dermal and epidermal layers of skin, which is why they are able to perform treatments like laser hair removal, laser tattoo removal, laser vein reduction, laser stretch mark removal, and more. Esthetician school is only concentrated on the surface areas of skin, such as facials, waxing, etc. Doctors and nurses can absolutely gain skillsets in medical esthetics when they attend a medical esthetician school and gain the capabilities to perform laser and injectable treatments.
Medical Esthetician School Courses
National Laser Institute is the leading medical esthetician school that offers doctors and nurses a wide variety of Botox injection training and laser training courses. You have the opportunity to choose from 1, 2, or 3 day weekend classes or more comprehensive courses that last between 1-2 weeks and cover almost everything related to medical aesthetics, including laser treatments, sclerotherapy, Botox, Dysport, dermal fillers, bioidentical hormone replacement therapy, and more.
These medical esthetician school courses are hands-on, which means you gain the opportunity to train on scheduled clients within a luxury medical spa as well as in a didactic lecture setting from expert medical aestheticians. National Laser Institute offers medical professionals CE/CME credits upon completion of courses. We are recognized as gold standard in education and were the first medical esthetician school to pioneer the laser training curriculum to laser schools across the nation.
To learn more about medical esthetician school or National Laser Institute, please call 480-290-7399.