Medical Esthetician Schools
When many people enter the health and beauty industry, it's because they want to help people gain their confidence by improving their skin care. If you enjoy working with customers and have a passion for anti-aging treatments, medical esthetics may be for you. Unlike esthetician school, medical esthetician schools provide opportunities to learn and practice anti-aging treatments that service both the dermal and epidermal layers of skin. Estheticians are limited to only the epidermal layers of skin rejuvenation.
There are many local medical esthetician schools in Arizona that offer medical esthetics training to those seeking a career in the health and beauty industry. In Arizona, it's not just doctors and nurses who can provide these cosmetic laser and skin rejuvenation treatments, but trained medical estheticians who have completed a regulated training course that certifies them to practice medical esthetic services.
Qualifications
Every state is different with regulations regarding medical esthetic training, so it is imperative you find out what your state requires from you. (You can obtain this information by calling 800-982-6817.)
However, in most states those who have earned a high school degree or GED qualify for medical esthetic training. Again, as stated before, you must be a medical professional in order to inject Botox, dermal fillers (Juvederm, Restylane, etc.) or perform sclerotherapy. The majority of states allow those who qualify for training to perform cosmetic laser services (laser hair reduction, radiofrequency skin rejuvenation, laser tattoo removal, etc.)
Why Medical Esthetician Schools?
While esthetician school is ideal if they'd like a wholesome education on skin rejuvenation, medical esthetician school is able to cover the latest trends, technology, and treatments that people seek within this growing industry. It is good to have both a medical esthetician certification and an esthetician certification if you'd like to provide a wide variety of treatments. It doesn't matter which school you attend first, but medical esthetician school is only a few weeks (two at max) versus a few months (six to twelve at esthetician school), so many students choose to start with medical esthetics training.
Salary and Careers
The medical esthetic industry is set to reach 3 billion by 2016. As a billion dollar marketplace right now, it's easy to see that the trend of these services are rapidly growing. In fact, there was a 500% increase in med spa openings over the last decade. With more openings, it means more places to work.
You don't have to work in a med spa environment once you complete training. Many medical estheticians find careers working at doctor's offices, dermatology clinics, salons, healthcare facilities, or even laser centers. Because these treatments are so high in demand, many places are hiring for those who specialize in cosmetic laser and injectables.
The salary for medical estheticians can vary. Income will depend on your location, state, type of business, your skill level, and more. If you're seeking a number, the The Bureau of Labor statistics reported that "skin care specialists," which is a broad term and may include medical estheticians, make anywhere between $30-$50k a year. You must also consider if you're receiving tips or not, part time versus full time, and how hard you are willing to hustle to gain and treat clients. The harder you work, the more income you should receive.
Medical Esthetician Course at National Laser Institute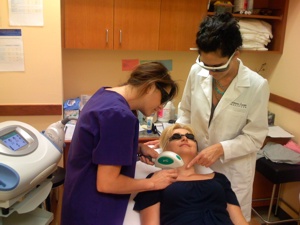 In a two week, hands-on comprehensive course, National Laser Institute teaches you everything you need to know about the latest medical esthetic technology and treatments. Our medical esthetics school only uses state-of-the-art technology, and courses are divided into classroom learning from experts in the field and clinical, hands-on training with scheduled clients in order to get used to the equipment and techniques. We have a variety of comprehensive courses depending on what you'd like to study, all of which range from laser hair reduction, laser wrinkle reduction, Botox, dermal fillers, sclerotherapy, BHRT, laser tattoo removal, laser skin rejuvenation, and much more.
As far as medical esthetician schools go, National Laser Institute is the leader in the educational industry. They were the first to pioneer the laser training curriculum that many laser schools use across the country. They also offer a variety of medical esthetic courses with hands-on training on treatments that range from laser hair reduction, Botox, chemical peels, BHRT, sclerotherapy, laser tattoo removal, and much more.
National Laser Institute is a medical esthetician school location in Scottsdale, AZ and Dallas, TX. To learn more about our leading medical esthetics school or different course options, please call 800.982.6817.
What to hear our attendees review NLI? Simply watch the quick video below!
Read on for more information: