Medical Esthetics Training for Doctors in Arizona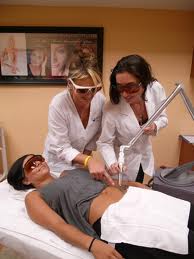 The anti-aging industry is one that will always be around as long as people want to look and feel great about their appearance. In this day and age–especially with social media's influence–people want to always look 110%, which means they don't want to see wrinkles, acne, or other skin imperfections.
This is where the medical esthetics industry comes into play. The medical esthetics market is a BILLION dollar industry. You may have heard of popular treatments like Botox and laser hair reduction, two in-demand services which bring in millions of treatments each year, but there are also other cosmetic injectable and laser services that clients are after. People love the newest technological advancements and they love looking great, and these are two things that make this industry so successful.
Our 10-Day Comprehensive Medical Professional Course
National Laser Institute offers a course tailored to doctors and nurses who want to offer both cosmetic injectables and laser treatments to clients. In this 10-day medical esthetics training course, medical professionals can earn their certification as well as CE/CME credits and start offering these services to their own clients.
This course is broken down into two parts. The first part involves a classroom learning environment with the industry's top instructors. The second part includes hands-on training in a retail medical spa where medical professionals will have the chance to work on scheduled clients in order to gain the confidence and techniques they need to perform quality treatments.
Aesthetics overview
Botox and dermal fillers
Laser treatments
Chemical peels, BHRT, and sclerotherapy
Client selection
Tips and techniques
Treatment history
Pre and post care
Hands-on training
+ Much more
About National Laser Institute
As the leader in the medical esthetics industry, National Laser Institute is proudly recognized as a gold standard of education and trains hundreds of students in their locations each month. They have also earned many outstanding reviews. To learn more about medical esthetics training or National Laser Institute, please call 800.982.6817.