Physicians Assistant Career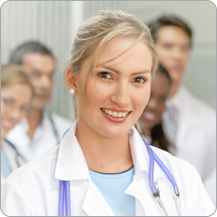 These days, a physician's assistant career includes many exciting opportunities. In addition to conducting physical exams, diagnosing and treating illnesses, and writing prescriptions, this invaluable member of any busy doctor's practice can also perform revenue-enhancing medical aesthetics services such as BOTOX® and dermal filler injections, anti-aging laser skincare, and laser hair reduction.
What's so special about these nonsurgical services? For one thing, the medical aesthetics industry is a 10 BILLION dollar industry. Physician's assistants who receive the proper training are able to capitalize off the high demand. Because the price point of these treatments are higher than other aesthetic treatments (waxing, facials, etc.) many doctors are eager to add services like BOTOX®, laser hair reduction, and dermal fillers to their area of expertise.
A physician's assistant career is ever-changing, and continuing medical education plays an important role in keeping a physician's assistant career current. A PA is already in great demand. Why not consider medical aesthetics training as a way to set yourself head and shoulders above the crowd?
Why is National Laser Institute the best school for a physician's assistant career?
If you have a physician's assistant career and are considering adding medical aesthetics to your resume, your timing couldn't be better! In a sluggish economy, people are turning to less invasive, less expensive ways of looking and feeling their best, and medical aesthetics fits that need perfectly. Especially when technology continues to improve and offer the very best that modern skincare has to offer.
Our courses are led by multiple experts who teach BOTOX®, dermal fillers, laser, IPL, and radiofrequency. Our leading comprehensive course includes all of these and more. It is a twelve-day course that provides you with everything you need to know in order to start treating your own clientele, including safety, equipment functionalities, the science behind treatments, client selection, pre and post care, and much more. Physician's assistants will even have the opportunity to participate in hands-on training in a medical spa environment while practicing on real clients. Physician's assistants will learn both the technical as well as the business sides of medical aesthetics at National Laser Institute.
Are you still unsure whether or not you want to jump into this industry? We offer free, live webinars each month that are tailored to medical professionals. Led by CEO and President, Louis Silberman, these webinars discuss the industry, reveal live demonstrations performed by leading medical aesthetic experts, and offer a live Q&A where you can participate and ask questions! You can sign up for our next webinar or view a sneak peek below!
For more information on physician's assistant career, contact us today at 1-800-982-6817 or simply fill out our form on your right.
More information: