PRP Injection Training Now Available at National Laser Institute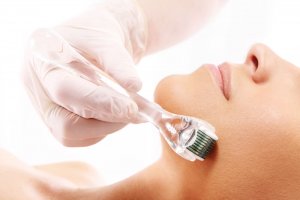 The popularity of Platelet-Rich Plasma (PRP) treatments among clients for cosmetic purposes has exploded in recent years as medical professionals realize the long-term benefits of this aesthetic procedure.
National Laser Institute is excited to announce that it now offers PRP injection training!
This is the perfect compliment to other cosmetic injectable treatments and can be easily incorporated into any practice after the proper training and certification.
What is PRP?
Platelet-Rich Plasma (PRP) contains a high amount of growth factors that work to naturally heal damaged or aged skin. A component of our blood, plasma contains special "factors" that help our blood to clot. It also includes proteins that support cellular growth.
The PRP blood facial is the most known plasma treatment and is designed to give skin the youthful appearance your clients desire. This procedure employs a powerful blend of growth factors and stem cells, extracted from the client's own blood through an advanced centrifuge selection process.
When we place PRP into the skin, platelets release growth factors which activate nearby cells to reproduce and stimulate repair. This therapy essentially rehabilitates the skin by placing growth factors in the precise area where the skin needs to be repaired and rejuvenated.
The PRP facial uses the body's natural healing abilities to slow and quite possibly reverse the aging process. The benefits include:
Boosts collagen production
Smooths wrinkles
Repairs and rejuvenates skin
Slows the course of aging
PRP Injections can be offered as an add-on service in which PRP is blended with hyaluronic acid and injected into the skin to smooth out wrinkles, add volume, and greatly increase collagen production. The typical client who will choose to try PRP Injections is not yet ready to commit 100% to dermal fillers but desires similar results with a combination of their own PRP and a smaller amount of filler.
What to Expect In PRP Blood Facial Training
National Laser Institute now offers PRP Blood Facial training through our CE/CME program for medical professionals. Here is what you can expect to learn in our PRP Blood Facial course:
The wound healing process
The history of PRP and how it is being used in cosmetic medicine
How PRP can generate collagen while improving skin tone
Protocol for drawing blood, placing it in the centrifuge and separating its components
Proper placement of PRP injections for optimal results
Patient care and safety protocols
When we combine the PRP blood facial with PRP injections, you will learn how to draw a small amount of the client's own blood, refine it to constitute PRP, blend it with hyaluronic acid, and then inject it back into their skin to look young again.
The combination of the PRP blood facial and PRP injection training will allow you to gain expertise in a trending therapy which not only restores and rejuvenates the skin, it also adds volume to the face with hyaluronic acid, lasting for up to two years.
Clients love the PRP facial because it offers a natural alternative to other facials which can be harsh and involve chemicals.  PRP injections can be provided as an add-on service. Continue reading below, and we will show you how.
PRP Injection Training at National Laser Institute
Now you can learn how to provide your clients with a PRP blood facial and PRP injections by enrolling in our CE/CME program at National Laser Institute!
Each course is designed to provide you with the most in-depth knowledge of some of today's most popular medical aesthetics treatments. You will receive classroom (didactic) education and clinical hands-on training for the ultimate learning experience.
The medical aesthetics industry is the perfect opportunity for medical professionals to earn supplemental income and expand their skill set. This industry is also appealing because the treatments are cosmetic, which means no insurance hassles.
To learn more about how you can earn CE/CME credits for PRP Blood facials, fill out the form on the right or call 800-982-6817.