PUTTING YOUR BEST FACE FORWARD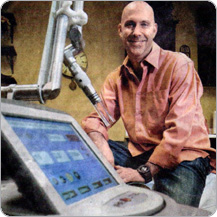 Job hunters fight appearance of aging.
By Patricia Bathurst
A 2006 MetLife national survey of aging workers indicates that employees between 55 and 59 blame age bias nearly 40% of the time to explain fruitless job searches.
That tallies with an experiment done by the Sloan Center on Aging and Work at Boston College that says applicants younger than 50 were 42% more likely to be called for a job interview than older candidates.
"The twenty-something associate in human resources may not seem candidates experience incompetence in good perspective," said Tony Reynes of Tesar Reynes, a Chicago-based recruitment firm, "and you know, there is an older-looking and young-looking 50."
In short, it's not solely your appearance, it's how your appearances perceive that can make a difference in job prospects, especially for candidates of "mature" age range.
And with unemployment for workers over 55 at about 5%, according to the U.S. Bureau of Labor Statistics, it may be more than a coincidence that facial rejuvenation procedures are on the rise.
Louis Silberman, president and CEO of the National Laser Institute, a med-spa center and  a medical aesthetics training program, says that business at the sister Scottsdale institutions was up more than 300% over six months.
National Laser Institute offers an array of skin treatments, from laser hair removal to photofacials and microdermabrasion and peels. Many of the treatments are offered a discount at National Laser Institute for those willing to have students performed service.
"Some say more youthful appearance might increase your chances (of a possible job interview) by as much as 30%," Silberman said. "This bad economy's been good for our business."
Regardless of the state of the economy, no one can deny that first impressions are important in business, said Deborah Bateman, executive vice president with National Bank of Arizona.
"I think it's important to eliminate any distractions from your skills and capabilities," said Bateman, who regularly has an oxygen facial at G Studio in Phoenix. "You always have to sell a first impression."
Jim Poole, a managing director at Malandro Communications Inc, in Scottsdale, believes in a healthy appearance, which equates with looking quote like you have energy and vitality."
To look healthier, Poole became a client at Physicians' Skin Institute, where treatments help erase a series of veins across his face.
"I'm not shooting for beauty," Poole said, "but it gave my skin and healthier appearance and it was noticeable. People have said, 'You're looking great.' "
An account based in Scottsdale, Catherine Peresini, has had facial treatments to give her face a more youthful blow. She touts the benefits of the procedure at a time when job market is so competitive.
"This is a youth-driven socient (and) there are sometimes 300 applicants even for a bookkeeping job," she said. "If you look younger, you can enter an interview with much more confidence."
That seems to be the key: confidence that comes with looking your best, Reynes said.
"It's not just about your face, … It's not about age, its attitudes," he said.