What Does a Medical Esthetician Do?
Each month the Bureau of Labor Statistics releases the latest occupational and career information, employment and unemployment statistics and reports, and wage, earnings, and benefits information by industry and sector.
Did you know the latest projected job growth from 2012 to 2022 according to the U.S. Bureau of Labor Statistics is 40% for all skin care specialists?
The facts reveal that out of all the careers in the beauty industry, licensed estheticians are predicted to increase the most over the next decade. There are about 47,000 estheticians and medical estheticians employed in the United States.
The U.S. Bureau of Labor Statistics projects more than 11,000 new jobs to be added, which is a strong 25 percent growth rate, and one that is "faster than average".
Licensed estheticians can include estheticians and medical estheticians. In today's blog, we will answer a common set of questions we get asked by our prospective students: What does a medical esthetician do?  And, What is the difference between an esthetician and a medical esthetician? 
We'll show you the difference between the two as well as the education required to become a medical esthetician. Our goal is to give you the information you need so you can decide which is the right career path for you.
What Is An Esthetician?
Estheticians provide a variety of treatments to rejuvenate and maintain the appearance and health of the skin. This type of skin care specialist cleanses and beautifies the face and body to enhance the health and appearance of their client's skin. They consult and treat clients by appointment to address their skin care concerns. They also help their clients reduce the appearance of skin imperfections such as acne scars and surgical scars.
Estheticians work together with their clients to reverse the effects of aging on the skin. After an examination of the client's skin, a treatment plan detailing products and procedures is recommended. Typical services in a treatment plan can include chemical peels, facial scrubs, microdermabrasion, waxing, facials, and body wraps.
An aspiring esthetician needs a high school diploma or GED certificate to enter cosmetology school. Each state's board of cosmetology approves relevant training programs, which last up to nine months. The requirements to become an esthetician include taking a state-approved cosmetology training curriculum and to acquire a state license to work as an esthetician.
Training can vary, but all estheticians must complete a state-approved program where they learn about skin care procedures such as facials, microdermabrasion, specialty masks, chemical peels, and hair removal. Estheticians must be licensed in all states, which usually calls for passing a written, and in most cases, a practical, examination. 
What Does A Medical Esthetician Do?
Estheticians generally work in spas or salons doing facials or waxing. Estheticians are usually not as involved as medical estheticians in laser based treatments unless they receive additional training. 
While most estheticians use their skill set in salon and spa atmospheres, medical estheticians are trained and licensed skin care specialists who work together with other medical professionals in medical settings doing laser and light-based procedures.
You will find medical estheticians working in plastic surgery, dermatology, medical spas, and other medical environments in additional to other health, beauty, and fitness establishments that have now incorporated laser into their business model.
Medical estheticians help patients with skin conditions, skin traumas and aging skin to heal and rejuvenate the appearance of the skin. Medical estheticians can administer chemical peels, microdermabrasion, laser therapy, and potent acids. Before you enroll for a medical esthetician training program, be sure to research the program and make sure it's authentic and provides the appropriate training.
Where do Medical Estheticians Work?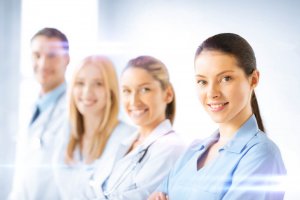 A medical esthetician may be employed by a hospital, medical practice, or any healthcare facility. Additionally, medical estheticians may also work in salons or spas.  Plastic surgeons and dermatologists commonly employ medical estheticians to perform procedures including medical chemical peels, exfoliation, and photofacials under their supervision.
In hospitals and clinics, medical estheticians support patients having operations and medical treatments that involve the skin. They instruct injured patients on how to reduce the appearance of facial swelling, skin discoloration, fine lines, wrinkles, acne, acne scarring, and much more. They show trauma patients how to clean and care for sensitive healing skin. Medical estheticians also provide emotional relief to their patients and boost the confidence of patients who are undergoing long-term treatment care.
It is common for plastic surgery practices and dermatologists' offices to employ medical estheticians. However, primary care practices also offer the services of medical estheticians as an added convenience, and as a way to attract patients and advance practice revenue.
Medical Estheticians: The Entrepreneurial Opportunity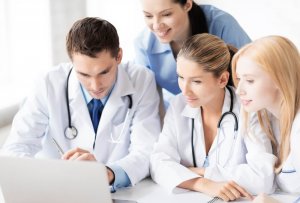 Medical estheticians may also be self-employed entrepreneurs who contract their services to medical practices.  If you desire to take the entrepreneurial route, once you are a trained and licensed medical esthetician, you can look for a physician who is not currently in the medical esthetics industry to partner with. The ideal physician partner has a busy practice that does not offer cosmetic medicine.
"All kinds of doctors are adding medical esthetics to their practice and marketing to their existing client base. OBGYN's are huge because they have a female client base, but other doctors are adding medical esthetics as well. There is a big demand for medical estheticians. National Laser Institute provides our students with the environment and tools they need to be successful in the medical esthetics industry," says Louis Silberman, CEO at the National Laser Institute.
When you find the ideal physician partner, present your business plan detailing how cosmetic laser and injectables are a cash-based business. Cash is a lucrative new revenue stream that few physicians will turn away – especially because their traditional revenue streams are insurance based, which offer lower profit margins and take longer to collect. Cosmetic lasers and injectables bring in 100% of the profits immediately.
Medical esthetic treatments are also easy to add to an existing practice because they are low risk, and they offer the chance to work with well- patients.  Your medical esthetic training will be highly sought after by the physician you approach because you are completely trained in laser safety and laser treatments.
"This is a 13.5 billion dollar marketplace, so there is a huge opportunity out there," says Louis Silberman, CEO at the National Laser Institute. "If you have 50 clients going through your doors in one day and have 10% people buying your services, then you're gaining 5 customers a day with medical aesthetic treatments. Plus, if your customer spends 1-2 thousand dollars a year, then you're in the money!"
What's not to love about being a medical esthetician? If you are passionate about helping others to feel and look their best, this career could be very rewarding for you, especially if you are passionate about skin care.
At the National Laser Institute, we train physicians, nurses, estheticians, medical professionals, and career changers from all over the world in revolutionary medical aesthetic technologies including laser, IPL, and cosmetic injectable treatments.
To learn more about our medical esthetician training courses at the National Laser Institute, please call 480-290-7399 or fill out the form on the right.