Laser Treatments: Because Men Need Pampering, Too
Even though women make of the majority of those who receive cosmetic laser treatments, we can't forget to target our male audience. According to the American Society of Plastic Surgeons, men make up only 8% of those who received non-surgical cosmetic treatments in 2011, but that doesn't mean they are any less important than women. In the last couple of years, more and more men have been looking into cosmetic laser treatments, like laser hair removal for itchy neck hairs or chest hairs and laser wrinkle reduction for those fine lines and wrinkles creeping up on them.
According to an article in the New York Times, Lieutenant Del Grande, who works two 24-hour shifts a week, stated: "My wife said I was getting the old turkey's feet on the sides of my eyes, the wrinkles. I also get dark circles under my eyes, and people tell me I look tired."
If you think men don't mind being told they look older or tired, then think again. Many men are just as concerned about their skin as women are, but many aren't aware that skin problems can be easily corrected with cosmetic laser treatments. There's a variety of lasers for different skin concerns. For example, laser acne reduction uses fractional or IPL technology to rid those pesky scars and bumps. Microlaserpeels, fractional treatments, and radiofrequency technology all have the power to reduce wrinkles on the face and neck regions. IPL laser hair removal can remove those unwanted areas from various parts of your body.
Because many people prefer cosmetic laser technology over aesthetic treatments, the market has skyrocketed in the last five years. In fact, there were over 1 million laser hair removal treatments performed last year and a 9% increase in microdermabrasion treatments. Technology is growing more and more advanced, which is why many people are choosing to enter the cosmetic laser industry by receiving laser training.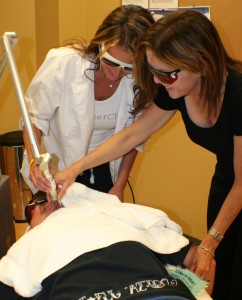 At National Laser Institute, students can learn the most popular and advanced cosmetic laser treatments in the industry. They'll receive hands-on training with scheduled clients in order to practice their craft and get a feel for the different types of cosmetic lasers. Students will also have the opportunity to learn from experts in the field in small classroom settings for more specific interaction. This may be way we've received a number of excellent reviews over the past few years, as well as an A+ rating at the BBB.
National Laser Institute is recognized as a gold standard of education and is committed to student's success. To learn more about laser treatments, laser training, or National Laser Institute, please call 800.982.6817.