Where Can I Work As A Cosmetic Nurse?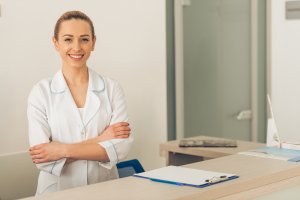 As the medical aesthetics industry grows, so does the demand for medical professionals with Botox and dermal filler skills.
If you are thinking about taking the plunge into a career as an aesthetics nurse, here are a few places you can expect to find work.
Where Can I Work As A Cosmetic Nurse?
Physician's office. These days, more physicians are incorporating Botox, dermal fillers and other cosmetic injectables into their practice. These treatments are quick, relatively pain-free and have little to no downtime. Physicians also flock to aesthetic medicine because it is a cash-based business, meaning no insurance hassles.
Dermatologist's office. Many clients visit a dermatologist for cosmetic skin issues, such as acne scars. But did you know there are tons of cosmetic services you can provide clients that will help keep their skin radiant and youthful?
Medical spas. Botox and dermal fillers go hand-in-hand with cosmetic laser treatments. With recent advances in technology, medical spas are expanding their offerings to include aesthetically- and medically-based services.
Laser clinics. Laser clinics are capable of working under a Medical Director to perform a variety of cosmetic laser and injectable treatments. These types of careers for cosmetic injectors include consulting with clients, understanding and performing procedures, and reviewing post-treatment information.
Fitness facilities. Fitness centers across the country hire nurses with their Botox certification. Hiring a cosmetic nurse to perform nonsurgical treatments makes sense. If you want to change your appearance, there is no shame in improving it the nonsurgical way!
Medical Aesthetics Training at National Laser Institute
One of the most common questions asked by prospective students is: "Who can administer Botox injections?" While the regulations vary from state to state, in most cases, you must be an RN or higher to perform these anti-wrinkle treatments. But there are a few states that allow LPNs to administer cosmetic injectables.
National Laser Institute pioneered the medical aesthetics industry with comprehensive aesthetics course options for cosmetic injectables and lasers that can be completed in just two weeks!
Our CE/CME training courses are designed to prepare physicians, nurses and medical professionals to perform Botox, dermal fillers and other treatments in any medical setting!
Each course is split between classroom education and clinical hands-on training for the ultimate learning experience. In the classroom, you will learn things like proper injection techniques, facial anatomy and patient care. During clinicals, you will have the opportunity to work on a variety of scheduled clients in a luxury medical spa setting to gain real-world experience.
For students who have a limited amount of time, we offer CE/CME courses that can be completed in as little as a weekend.
If you are a medical professional interested in continuing education courses, fill out the form on your right or give one of our admission advisors a call at 1-800-982-6817.