How Much Is an Esthetician Salary?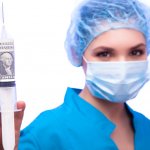 If you are considering a new career in beauty, you are probably wondering how much the average esthetician salary is. Right now is the perfect time to get your foot in the door in the exciting, booming beauty industry. Helping patients bring out the best versions of themselves can be incredibly rewarding. Plus, the beauty industry is one of the few recession-resistant job fields in the United States. Read on to find out everything you need to know before getting started.
What Do Estheticians Do?
Estheticians are highly skilled skincare specialists. They generally focus on the facial skin, but some may also offer treatments that target the body.
Each state has its own rules and regulations for esthetician licensing. In any case, most estheticians get started by attending esthetician school. Esthetician schools, also commonly known as aesthetics schools, are institutions that train students to become licensed beauty professionals.
However, it is important to stress that estheticians are not cosmetologists. Cosmetologists can offer a variety of general beauty treatments, like hair and nails. In contrast, estheticians are limited to treating the superficial layers of the skin. Furthermore, esthetician schools teach students about things like anatomy, safety and sanitation, and skin sciences.
Where Can Estheticians Work?
Once you have graduated from an esthetician school, you may work in a variety of different settings. Working in commercial settings like salons and spas is very popular. However, estheticians may also work in more clinical facilities, such as plastic surgeons' offices.
Esthetician salary tends to be higher in clinical facilities than in commercial facilities, although more established estheticians may also choose to open up private practices. Salary.com posits that the average esthetician salary is $47,500.
Why Should I Consider Medical Esthetics?
Many of these estheticians eventually "upskill" to maximize their income potential. Esthetician school is a fantastic way to get your foot in the door in the beauty industry. Medical esthetics courses are an even more fantastic way to increase an esthetician salary.
The term "medical esthetics" refers to any non-surgical procedures meant to enhance a patient's appearance. The industry has been booming over the years (especially as the aging population continues to grow) and shows no signs of stopping any time soon.
A recent report predicts that the global medical esthetics industry will reach $22.2 billion by 2025. Additionally, statistics from the last American recession suggest that workers will continue to spend on non-invasive cosmetic procedures even during times of economic downturn.
This may be because hiring managers tend to see beauty and youth as assets in the workforce, making cosmetic procedures a means of ensuring job security. Moreover, consumers tend to allocate money for little luxuries even when their budgets are tight.
The medical esthetics field is very broad, and it can be intimidating to get your foot in the door. The most popular job titles in the medical esthetics industry, however, are cosmetic laser technician and esthetics injector.
Cosmetic Laser Technician Salary vs. Esthetician Salary
Lasers have recently been becoming more and more popular for cosmetic procedures. Patients like that they are relatively pain-free and less time-intensive than other options. Technicians like them because you can choose to specialize in one or two procedures and still turn a sizable profit.
For example, you may choose to specialize in laser tattoo removal. You charge an average of $300 per session. If you perform five sessions per day in your private practice, you can net up to $1,500 per day from those five sessions alone.
According to Salary.com, cosmetic laser technicians make an average of $50,905 a year — over $3,000 more than the average esthetician salary of $47,500 a year!
You can become a cosmetic laser technician even if you do not have a medical background. In most states, the only requirements are that you are at least eighteen years old and have a high school diploma (or its equivalent). Some states may also require you to undergo a certain number of supervised hours of training.
During our Hybrid* Online Comprehensive Laser Course, you will receive online classroom laser training with a variety of instructors and live demonstrations with several hours on each modality. Modalities include Laser Hair Removal, Photofacial, Laser Skin Rejuvenation, Radiofrequency Skin Rejuvenation, Coolsculpting, Cellulite Reduction, Tattoo Removal, Radiofrequency Skin Tightening, and Microneedling. Then choose one of our nationwide locations to attend your clinicals for hands-on learning!
Esthetic Injector Salary vs. Esthetician Salary
While anyone can become a cosmetic laser technician, only medical professionals can become esthetic injectors. Esthetics injectors can administer cosmetic fillers like Botox, Kybella, Juvederm, and more. Nurses and physician assistants are some of the most likely candidates to become esthetic injectors. They may also be known as esthetic/cosmetic nurses.
If you already have a medical background, then esthetic injector certification should be a no-brainer. The average salary of a cosmetic nurse $61,727 — over $14,000 more than the average esthetician salary of $47,500! Plus, Botox training is a quick and easy way to earn CE/CME credits. With our course, you can complete your training in as little as two days.
During our CME Cosmetic Injections Course, you will receive online classroom and demonstrations on Botox, dermal fillers, off label Botox and fillers, PRP, sclerotherapy, Kybella, and PDO threads. Then choose one of our nationwide locations to attend your clinicals for hands-on learning!
Medical Esthetics Courses Near You
The National Laser Institute has been an industry leader for nearly two decades. Whether you are a medical professional looking to expand your business, a recent graduate entirely new to the workforce, or anything in between, we are here to help.
On top of having multiple locations across the country, we train hundreds of students per month at our Arizona and Dallas campuses. We offer a wide variety of courses. Financing options are also available for students in need. If you are interested in working directly with clients to make their visions a reality, medical aesthetics may be the right choice for you. Call us today at 480-290-7399 for more information.
We understand you may be nervous about taking the first steps towards your new career in this booming industry. We will be happy to answer any questions you may have. Join our successful alumni working as laser hair reduction technicians, laser tattoo reduction specialists, medspa owners, cosmetic injectors, aesthetic nurses, cosmetic physicians, and more.