Tattoo Removal Schooling Scottsdale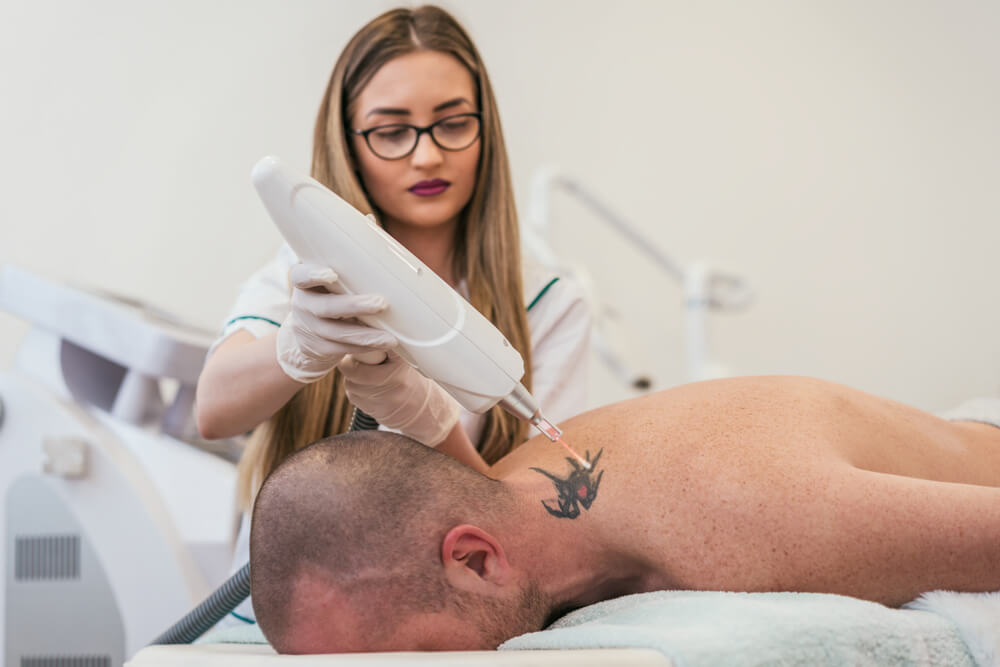 If you're searching tattoo removal schooling Scottsdale, you're already half-hooked on an exciting niche in the world of medical aesthetics.
Trust us, you're fishing in the right market for education and a future career. When it comes to truly terrible body art, you are about to become an expert!
Because…
Bad tattoos and the people that get them just became your business, baby!
The Market:
When it comes to tattoo removal, the market is loud and proud. In fact, tattoo regret is driving the market to financially soar. We're not talking, take flight, gentle lift-off ascensions either. Nope, tattoo removal is BIG. Undoubtedly, it has officially reached golden winged soaring status.
Truth be told, laser treatments and other aesthetics services continue to grow.
(Almost as quickly as our regret over getting our ex boyfriend's initials tattooed on our chest)
According to Grand View Research 2018 alone, the global market for tattoo removal bypassed $114 million! That sum equals a lot of laser treatments administered to millions of people in deep remorse over unwanted tattoos!
The same study reports that about 30 percent of both females and males desire to get their tattoos removed. Moreover, 35 percent of 18 to 21-year-olds with tattoos regret their decision to get inked.
Who wants tattoo removal?
As we mentioned, tattoo regret is prevalent among both women and men. There are 45 million Americans that have tattoos. Women, however, have a greater toehold on remorse associated with their unwanted body art. In fact, seventy percent of the tattoo removal market belongs to women.
There are as many reasons to want laser tattoo removal as there are butterfly tattoos in the United States. People seek trained laser technicians to remove the names and initials of ex-spouses and lovers. They also seek removal for inappropriate tattoos because they don't want their children to see the artwork. Tattoos in odd spots can also limit clothing choices. They may also limit job or military acceptance or promotion.
(Yes, we know, it's 2020 but it continues to be an ongoing issue for some institutions)
Other clients seek removal because of tattoo fading tattoo and bleaching from sun exposure. Poor artwork is also a huge reason that people pay to have tattoos removed.
We're just going to be honest when we say that the heat is scorching in Scottsdale. As a result, not many Arizonians want to wear long-sleeved shirts to cover up the foot-long lime green dragon tattoo that they got from a friend when they were 17.
Get trained, get lasering!
Tattoo removal schooling Scottsdale is readily accessible if you want to become a cosmetic laser technician.
At National Laser Institute, we offer a Hybrid* Online Comprehensive Laser Course that takes two weeks or less to complete.
In the comfort of your own home (with your giant pink Power Ranger tattoo hidden from the prying eyes of the rest of Arizona) you can log onto your phone or computer to complete our didactic coursework. Program enrollees attend live, virtual classes where they learn from medical aesthetics professionals via demonstrations and open interaction.
Even better, one of our many physical campuses is right in your backyard! That's right, we're conveniently located in Scottsdale! You won't have to walk far beyond your sofa where you completed your didactic training to knock on the front door of our exclusive med spa.  In fact, it might even be a familiar sight for you if you know the area well!
If you're looking for the comforts of home our program is the perfect opportunity for your tattoo removal training! Our program is equally perfect for people looking to move to Scottsdale!
Qualifications for enrollment:
To qualify for our program, you must be at least 18 years of age. You must also have a high school diploma or equivalent. Other than meeting those reasonably lax prerequisites, you are in.
Let us be the first to give you a high five (or, a social distancing head nod from across the room) and welcome you to your continuing education!
What you'll learn in tattoo removal schooling Scottsdale:
You will learn, quite literally, everything you need to know about how to be a competent, skilled cosmetic laser technician. Our instructors will equip you with a wealth of knowledge on tattoo ink and how it interacts with different skin types. You will understand how to safely operate different types of cosmetic lasers and how to use them on individual tattoos to yield optimal results. Also, you will learn the indications, contraindications, and treatment plans for different tattoos and skin types. Upon receiving your certificate of completion, you will be well-versed in the differences between Q-switched lasers and other types of cosmetic lasers as well.
Conversely, upon leaving NLI's tattoo removal schooling Scottsdale you will be a capable, cosmetic laser technician!
More than tattoo removal:
We know that you came here specifically on a search for tattoo removal schooling Scottsdale, but with National Laser Institute's course, you'll learn that and so much more. In fact, your cosmetic laser training and coursework at our institution will empower you to do even more in medical aesthetics. The course will also cover Microneedling, Photofacial, laser hair removal, cellulite reduction, Radiofrequency skin tightening, laser skin rejuvenation, Coolsculpting body contouring, and more!
After didactic lessons, you will join us at one of our nationwide med spa environments for the hands-on portion of your training. In our luxe med spa, you will interact with real clients and be trained by skilled cosmetic laser technicians already employed in the industry!
Luckily enough, one of our exceptional med spas is located in the heart of Scottsdale. As a student looking to stay in the area, you will be right around the corner from local technicians and the best, most up-to-date facilities in the industry!
In fact, if you plan to work in Scottsdale, some of the clients you see during training may very well become one of your clients later in your career. The very people that you train on (under close supervision) of course could eventually become your regular clients as you hit your stride in the field!
As you enter the cosmetic laser technician workforce in Scottsdale you will have an intimate look at what the local clients want, need, and expect out of a National Laser Institute graduate!
Such insight can only work to your advantage as a practitioner!
Contact us today!
At National Laser Institute, we are your biggest cheerleaders! We want you to succeed in tattoo removal schooling Scottsdale. We welcome you into the wonderful, fulfilling career of medical aesthetics and can't wait to have you as a professional peer!
Call us now at 855-637-4530 for more information. You may also live chat with one of our fantastic academic advisors!
During our Hybrid* Online Comprehensive Laser Course you will receive online classroom laser training with a variety of instructors and live demonstrations with several hours on each modality. Then choose one of our nationwide locations to attend your clinicals for hands-on learning!
Modalities include Laser Hair Removal, Photofacial, Laser Skin Rejuvenation, Radiofrequency Skin Rejuvenation, Coolsculpting, Cellulite Reduction, Tattoo Removal, Radiofrequency Skin Tightening, and Microneedling.