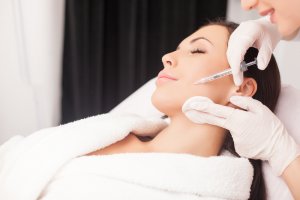 With over seven million treatments and counting, Botox has become the go-to procedure when it comes to eliminating lines and wrinkles.
These days, however, "baby Botox" has become popular among clients in the medical aesthetics industry, and it could become the future of cosmetic injections!
What is Baby Botox?

Baby Botox (discreet Botox) uses a lower dose of Botox and gives clients some of the anti-aging benefits of regular Botox treatments without appearing frozen. Microdoses of botulinum toxin are beneficial because they allow natural facial expressions and movement.
This concept has been around for years but recently gained popularity due to social media and celebrities. Among millennials, baby Botox is commonly used as a preventative treatment or upkeep strategy.

Like Botox injections, this cosmetic procedure is not one-size-fits-all. The goal is all about personalization. Some clients will try a lower dose of Botox product first, and if they don't see enough improvement, they will schedule a follow-up appointment for the full dose.
Where Is Botox Injected?

During your career as a medical aesthetics nurse, you will be able to inject:
Between the eyebrows.

A few units of Botox between the eyebrows can reduce the appearance of frown lines, the two vertical lines that create an "11."



The forehead.

The forehead is one of the most common areas treated with Botox. The appearance of fine lines and wrinkles are reduced when Botox is administered to the forehead.

Crow's feet.

To create an overall younger appearance, Botox can treat the crow's feet. Botox injections can reduce these lines without giving the skin a stretched appearance.
In addition to the FDA-approved uses, there are many off-label uses for Botox, including the lips for a "lip pop," the eyebrow arch and platysmal bands.
Botox Training at National Laser Institute
Are you a medical professional ready to earn your Botox certification? Consider Botox training at National Laser Institute.

With over a decade of excellence, our CE/CME courses include didactic education and clinical hands-on training for the ultimate learning experience!

Our instructors are the industry's leading nurses, physicians, skin care specialists and medical aesthetics experts who have seven to 20 years of experience in the field.
During a Botox and dermal fillers courses, you will learn some of the most popular Botox and dermal fillers (Restylane, Perlane, Juvederm, etc.) treatments.
Classroom education will go over topics such as facial anatomy, the aging process, Botox injection techniques, patient care and more!

Clinical hands-on training is completed in our state-of-the-art educational setting. This is where you will have the opportunity to work on real clients and observe comprehensive demonstrations no more than a foot away from the training bed.
By the end of Botox training at National Laser Institute, you will feel comfortable and confident in your ability to provide Botox and dermal fillers treatments to your clientele.
To learn more about our continuing education courses, fill out the form on your right or call 1-800-982-6817.