Botox Injection Certification in Arizona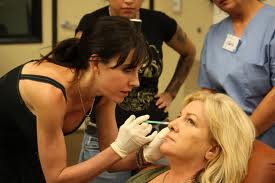 TIME magazine report that the lackluster economy may be part of the reason why more and more people are seeking out nonsurgical vanity treatments. They defined this as "the lipstick effect," which basically means that people are cutting back on pricier options for smaller indulgences as consolation prizes. For example, instead of receiving a facelift, people are buying into more affordable Botox treatments.
Botox treatments have been on the rise for the last few years with over 6 million treatments performed last year. It's the #1 most popular and most in-demand nonsurgical cosmetic treatment in the nation. Because it's nonsurgical, the entire treatment be done in under a lunch hour and clients can go back to their daily activities right after!
Botox Injection Training
Because of the increased popularity of Botox, more and more medical professionals are seeking out Botox injection certification. To get Botox certified, you first need to enroll in a Botox injection training course. We offer Botox training at our medical aesthetician school in Arizona, giving medical professionals hands-on training with Botox and dermal fillers.
In our 2 day Botox and dermal filler training course, medical professionals will gain a thorough knowledge of tissue interaction, client selection, injection techniques, skin and anatomy overview, pre and post treatment care, and much more. This Botox injection training course is taught by experts in the medical aesthetics industry and offers CE/CME credits to medical professionals upon graduation. Medical professionals also receive hands-on training with scheduled clients in a luxury medical spa setting in order to become comfortable and confident in performing treatments.
National Laser Institute is the leader in the medical aesthetics industry and has earned many outstanding reviews. We are recognized as the Harvard of medical aesthetician schools and have earned a gold standard of education. To learn more about Botox injection certification or Botox injection training courses, please call 800.982.6817.