Botox Injection Certification in Phoenix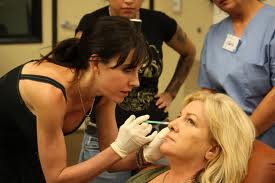 Cosmetic Botox treatments are a brand that almost everyone has heard of. It's been reported as the #1 nonsurgical cosmetic treatment in the United States with over 7 million treatments performed just last year.
The rise of Botox's popularity has made it a highly in-demand treatment from clients who want a simple, fast and safe way to gain a more youthful appearance. Because of this demand, more medical professionals are adding Botox to the list of provided services.
Although you'd graduated from medical school, you need to attend a Botox injection training school in order to be certified to provide Botox and other cosmetic injectables. National Laser Institute has you covered. We are the leader in the medical aesthetics industry and train hundreds of students in each of our locations each month. Between 1-10 days, you can walk away with Botox injection training, dermal filler training, laser training, and much more.
Botox Injection Training
National Laser Institute knows that sometimes it's hard to break away from normal life to attend courses. This is why we over various different courses that may fit your needs and schedule. We offer a 1-day Botox injection training course that solely focuses on Botox. We also offer a combined Botox and filler course that is two days. Other courses are longer, but they can include cosmetic laser training (laser hair reduction, laser acne reduction, laser wrinkle reduction, etc.) sclerotherapy and more.
Our courses offer hands-on training with scheduled clients within our luxury medical spa environment as well as detailed classroom knowledge from the best instructors in the industry. By the time you leave, you will be able to inject with confidence and have a wealth of knowledge regarding the cosmetic injectable field.
Botox Training Objectives
In our Botox injection training course, medical professionals will learn:
Aesthetic overview
Botox history
Tissue interaction
Client selection
Pre and post care
Hands-on injectable training
+ More!
Botox Injection Certification at National Laser Institute
National Laser Institute is the leader in the medical aesthetics industry and the pioneer within the cosmetic laser training world. Medical professionals have the opportunity to earn CE/CME credits upon course completion. We are dedicated to the education of every students, even providing graduate services for those seeking a career change.
To learn more about Botox injection training or National Laser Institute, please call 800-982-6817.