Botox Injection Training and What You Should Know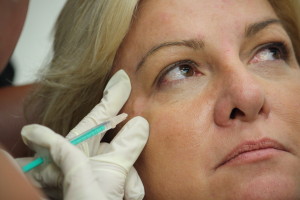 Botox Injection Training
It's no surprise that Botox is the #1 nonsurgical cosmetic treatment in the nation. It's a brand name that mostly everyone recognizes for it's anti-aging magic without downtime or surgery. Many medical professionals in the United States qualify for Botox injection training, and there are few surprising pieces of information that come along with gaining this certification.
You can earn CE/CME credits. If you're seeking out something new, fun, and different as a way to earn your yearly CE or CME credit, Botox training may be your answer. National Laser Institute's medical aesthetics school offers Botox training that ranges from 1 day to 12 comprehensive days in which you're able to earn credit. Which brings us to the next point:
It takes as little as one weekend to gain certification. If you think you don't have time to go back to school, think again. Botox injection training at NLI takes as little as two days to earn Botox, Dysport, and dermal filler certification PLUS hands-on training.
Cosmetic Botox doesn't require the hassle of insurance. Botox's market price averages at about $500 per treatment, and clients are willing to pay that price for lasting results that don't require downtime or surgery. Because Botox is a cosmetic treatment, this means no insurance middleman.
Botox Certification with National Laser Institute
National Laser Institute offers Botox courses each month to medical professionals interested in receiving training. We are the leading medical aesthetics school in the nation and have been providing a decade of educational excellence. We not only offer cosmetic injectable training, but also laser training, sclerotherapy, skin rejuvenation, and many more.
Botox courses are led by leading medical professionals who have been in this industry for years, offering the latest skills and most up-to-date techniques. Attendees also gain hands-on practice with clientele within a luxury medical spa setting in order to gain real world experience.
To learn more about Botox injection training and certification, simply fill out the form on your right or call 480-290-7399.