Need CME Credits? Medical Aesthetics Is The Answer!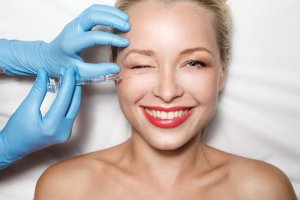 Continuing medical education (CME) allows physicians, nurses and medical professionals to stay up-to-date with what is going on in the medical field and gain knowledge of new services or techniques.
As a medical professional, you may choose to attend a seminar in your specific field, or you may wish to explore other areas, such as the medical aesthetics industry!
The Significance of Medical Aesthetics
There are several reasons why medical aesthetics is the best choice for medical professionals looking to earn CME credits. First, it's a $16 BILLION industry. Clients want long-lasting cosmetic procedures to look and feel younger.
After attending comprehensive Botox and fillers training, you will have the opportunity to supplement your income without the hassle of insurance! And there is always the option to start your own aesthetics business, too!
Another reason medical professionals are flocking to the medical aesthetics field is the training to earn CME certification can be completed in as little as two days up to two full weeks of training. In this time, you will gain the confidence and skills to perform a variety of cosmetic injection treatments on your clients.
Look for CME training courses that allow you to work on real clients under supervision, as well as gain expert instruction from leading medical professionals in the aesthetics field.
Where Can I Work As A Cosmetic Nurse?
Are you tired of long, never-ending work days in a hospital or clinic setting? Snap out of your job blah with a career opportunity in medical aesthetics!
As the health and beauty industry continues to grow, more job opportunities will become available for physicians, nurses and medical professionals who have earned their CME certification. Here are some of the most popular job opportunities:
Physician's office.

More physicians are incorporating treatments like Botox, dermal fillers and Kybella into their practice as these treatments are quick and relatively pain-free.

Dermatologist's office.

Clients flock to a dermatologist for cosmetic skin issues, such as acne scars. Did you know there are cosmetic laser treatments that can address these common skin issues? Cosmetic services can help clients keep their skin radiant and youthful with treatments like Intense Pulsed Light (IPL) photofacials and BroadBand Light (BBL) therapy.

Medical spas.

Botox and dermal fillers go hand-in-hand with cosmetic laser treatments. With recent advances in laser technology, medical spas are expanding their offerings to include aesthetically- and medically-based services.

Laser clinics.

Laser clinics can work under a Medical Director to perform a variety of cosmetic laser and injectable treatments. These types of careers for aesthetic nurses include consulting with clients, understanding and implementing procedures, and reviewing post-treatment information.

Fitness facilities.

Fitness centers hire cosmetic nurses who have their Botox and dermal filler certification. Hiring a cosmetic nurse to perform nonsurgical treatments makes sense. If you want to change your appearance, there is no shame in improving it non-surgically!
Earn CME Credits With Medical Aesthetics Training
Looking for a comprehensive learning experience? Consider Botox and dermal fillers training at National Laser Institute!
If you wish to gain knowledge and treatment techniques when it comes to cosmetic injectables, consider this training. Our comprehensive CE/CME training courses give you clinical hands-on training in an array of treatment areas, including the glabella, marionette lines and much more! It covers detailed knowledge of these cosmetic injectables, as well as hands-on training.
By the end of the course, you will feel comfortable and confident in performing a variety of cosmetic treatments like Botox, dermal fillers, Kybella, platelet-rich plasma (PRP), PDO threads and more!
If you would like to learn more about National Laser Institute's CE/CME courses, fill out the form on the right or give one of our Admissions Advisors a call at 1-800-982-6817.