Sclerotherapy Training for Medical Professionals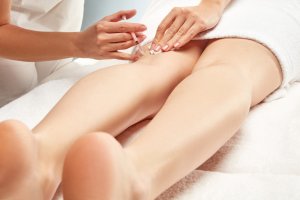 Do your clients tell you they feel bothered by the appearance of spider veins on their legs or other parts of their body?
This condition can lead to many issues, such as discomfort and a lack of self-confidence.
Roughly 75 percent of Americans suffer from these unsightly veins and seek treatment for removing them.
Luckily, there is a cosmetic treatment that can help: sclerotherapy.
By offering sclerotherapy services, medical professionals can capitalize on helping their clients feel comfortable and confident in their skin. Learn how sclerotherapy and the medical aesthetics industry can help your clients!
What Is Sclerotherapy?
Your veins have an essential job: They are responsible for moving their supply of blood back to your heart. Each vein has a one-way valve, which prevents blood from flowing backward. Sometimes, these valves become damaged, allowing blood to return to the vein.
If your clients are dealing with spider veins, this condition can be treated using laser vein removal or an aesthetic treatment called sclerotherapy.
A sclerotherapy treatment is painless involves:
The injection of a solution into the problem vein, which

Causes scarring in the vein and forces blood through other routes.

The vein collapses, and your body reabsorbs it gradually.
During comprehensive aesthetics training, physicians, nurses and medical professionals will learn this treatment is safe, fast to perform and has quick recovery time.
Sclerotherapy Training at National Laser Institute
During our sclerotherapy training courses, we teach physicians, nurses and medical professionals the latest, most advanced and safest techniques for treating clients.
The clinical hands-on portion of our course includes working on scheduled clients within a medical spa environment. Our experienced instructors will demonstrate treatments as well as be by your side upon injecting these clients.
You will be using FDA-approved solutions to safely and effectively treat these clients as well as to hone your skills as a cosmetic injector. Our class sizes are kept small, so everyone has multiple chances to treat many clients.
By enrolling in one of our continuing education courses, you will learn the skills needed to integrate sclerotherapy and other cosmetic treatments into your practice successfully as well as to safely treat your clients within a medical setting.

We also offer other medical aesthetic course options where you will learn treatments like Botox, dermal fillers, platelet-rich plasma (PRP), PDO threads and Kybella!
With over a decade of excellence, National Laser Institute is the leading medical aesthetics school in the nation and is recognized as a gold standard of education.
For more information on National Laser Institute's CE/CME training courses, fill out the form on your right or give us a call at 1-480-290-7399.