Holiday Botox: Clients Are Requesting More Treatments Now!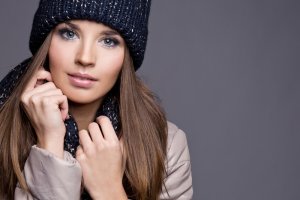 The holidays can be stressful, leaving you with little to no downtime between lunch with old friends and family gatherings. It is easy to let your diet slip, exercise less and adopt sporadic sleep habits.
While we rarely make time for doctor's appointments around the holidays, there is one exception: Botox.
A recent article found a holiday Botox bump that starts right before Thanksgiving and lasts through the new year.
If you are considering a career as an aesthetics nurse, here is everything you need to know about holiday Botox!
The Holiday Botox Bump
Priceonomics, a San Francisco-based data studio, analyzed medical appointments booked on Zocdoc over a one-year period (April 2017 to March 2018) and found a spike in Botox appointments around Thanksgiving and Christmas. Booking rates were 35 to 45 percent higher than normal during this time.
The data studio also found November 20 was the busiest day of the year with booking rates 79 percent higher than average. December 4 and 21 came in second, and both had Botox booking rates around 75 percent higher than average.
Since the holidays are one of the most social times of the year, it is a no-brainer that holiday Botox appointments surge during November and December!
If you aren't convinced, consider this: Last year, 27 percent of women said they would want to receive aesthetic services as a holiday gift. For others, the holiday season can be a difficult time of year, so treating themselves with Botox can be uplifting.
Studies have even shown that Botox can potentially improve your mood, thanks to the facial feedback hypothesis. If you make a sad face, your brain will respond to this emotional feedback. So, if you cannot make this 'face,' your brain will not process that you are experiencing a negative emotion.
What does this mean for cosmetic injectors? They should expect to see more clients right before the holidays!
A little-known fact about Botox is that its results are not immediate. Typically, it takes one week for the effects of Botox to become evident. Administering Botox a month before the holidays will ensure that the effects are in full swing by the time your client sits down for a holiday dinner.
Botox Training at National Laser Institute
If you are a physician, nurse or medical professional interested in aesthetic medicine, consider Botox training at National Laser Institute! We offer courses that can be completed in as little as a weekend up to two weeks of training.
Each CE/CME training course combines classroom education with clinical hands-on training for the ultimate learning experience. Our goal is for you to leave the National Laser Institute feeling comfortable and confident in the training you received so that you can provide your future clientele with amazing treatments!
You will learn some of the most popular cosmetic treatments, including Botox, dermal fillers, Kybella, sclerotherapy, PDO threads, platelet-rich plasma (PRP) and more!
In the classroom, you will learn the science of Botox, facial aesthetics, Botox injection techniques, patient care and more. Clinicals are completed in a medical spa environment where you will watch comprehensive Botox and cosmetic injection demonstrations as well as treat clients that we schedule for you.
One thing that makes us unique is we spend millions of dollars each year to find and book clients for you to work on during clinicals. We want you to have experience administering treatments on a variety of clients and skin types.
If you would like to learn more about CE/CME training courses at National Laser Institute, fill out the form on your right or call 1-800-982-6817.