Botox For Endometriosis Does it work?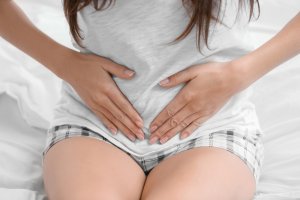 From excessive sweating to migraines, Botox injections have been used to treat more than just forehead wrinkles. Can Botox help with medical issues such as endometriosis? And now, the cosmetic injection might be the key to alleviating endometriosis pain.
Despite surgical and hormonal treatments, many women continue to have pelvic pain.
In a recent pilot study, researchers found Botox can offer women relief from the pain and discomfort caused by endometriosis.
Botox For Endometriosis Pain
While this is the first time Botox has been used to treat endometriosis, it has also been used to treat chronic pelvic pain.
"These findings suggest that pelvic floor muscle spasm may be experienced by women with endometriosis and contribute to pain persisting after standard treatment," says Kate Anderton, BSc, a biomedical sciences graduate from Lancaster University.
Botox works by blocking nerve signals, leaving the muscles unable to contract and create facial movement. The neurotoxin is injected into the neuromuscular tissue, which can be found directly under the surface of the skin.
This anti-aging treatment is typically performed on the wrinkles that are present on the forehead, cheeks, and around the eyes and mouth. Off-label uses of Botox can be used to enhance the lips, eyebrow arch and platysmal bands.
Botox Training at National Laser Institute
Are you ready to take your career to the next level by entering the medical aesthetics industry?
National Laser Institute offers comprehensive Botox courses for medical professionals eager to learn cosmetic injections.
Each Botox course here at National Laser Institute is designed to prepare medical professionals with the skills necessary to provide cosmetic injectable treatments in any medical setting!
We invite you to check out tens of thousands of National Laser Institute reviews from previous attendees such as Dr. Ryan Krch who took several of our CE/CME courses over the years. You can hear about his training experience in the video below!
Our NEW cutting-edge hybrid* online experience will enable you to continue on your journey towards learning injections and more. During our CME Hybrid* Online Cosmetic Injections Course you will receive a combination of online classroom and clinicals, including demonstrations on Botox, Dermal Fillers, Off Label Botox & Filler Injections, PRP, Sclerotherapy, Kybella & PDO Threads. 
To learn more information about Botox injection training at National Laser Institute, fill out the form on the right or call 1-480-290-7399 to speak with an Admissions Advisor.