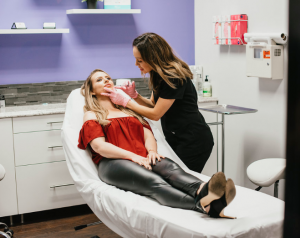 The most popular question we are asked is, "Who can inject Botox?". With the popularity of cosmetic injections on the rise, many physicians and nurses are looking to transition into the medical aesthetics industry!
Millions of men and women receive Botox treatments annually, but it doesn't mean that just anyone can administer it. In the United States, you can only provide botulinum toxin injections if you meet specific requirements and attend a Botox course.
You are eligible to provide Botox injections if you are a medical professional, such as a physician or nurse. Estheticians, however, are not allowed to inject Botox, because it's not within their scope of practice.
National Laser Institute, the nation's leading medical aesthetics school, offers Botox training courses for medical professionals who want to become a cosmetic injector and add this popular cosmetic procedure to their service menu.
What Is Botox?
Botox is an FDA-approved non-surgical treatment in which a sterile needle injects small concentrations of product into the muscle, causing them to become less stiff and prevent future wrinkles from forming. In medical settings, this type of neurotoxin is used to treat certain medical conditions like excessive sweating (hyperhidrosis), migraines and even bladder disorders. In medical spa settings, it is used cosmetically to treat fine lines and wrinkles by paralyzing the targeted muscles.
When injected in small doses, Botox works by blocking signals from the nerve cells, leaving the muscles unable to create facial movement. The neurotoxin is injected into the neuromuscular tissue, which can be found directly under the surface of the skin. This anti-aging treatment is typically performed on the wrinkles that are present on the forehead, cheeks, and around the eyes and mouth. Off-label uses of Botox can be used to enhance the lips, eyebrow arch and platysmal bands.
During Botox training at National Laser Institute, you will learn how to inject Botox as well as other cosmetic injection techniques to provide your aesthetic patients with enhanced results. Course options range from two days to two weeks, depending on how comprehensive and in-depth you want your training experience to be.
How To Become A Cosmetic Injector
Botox training is required for medical professionals who want to perform this procedure. At National Laser Institute, our continuing education courses include didactic education and hands-on clinical practice for a comprehensive learning experience. The instructors who teach our courses are industry experts, including plastic surgeons and estheticians, with seven to 20 years of experience in the field.
Botox certification programs are typically one to two days long and include training on several other treatments like dermal fillers (Restylane®, Perlane® and Juvederm®), Kybella and sclerotherapy. Objectives of a Botox course will typically include:
History of Botox Cosmetic
Cosmetic indications and contraindications of Botox
Injection techniques using Botox and other cosmetic procedures
Types of dermal filler products
Anatomy of the face and physiology as it applies to aesthetics
How to conduct a patient consultation
Continuing education courses should supplement classroom education with clinical experience so that you receive hands-on practice with the cosmetic injection techniques you learned. At National Laser Institute, clinicals take place in a medical spa environment in which you will watch comprehensive demonstrations and treat real clients under the supervision of your instructor.
Botox Training at National Laser Institute
Are you ready to take your career to the next level by entering the multi-billion-dollar medical aesthetics industry? National Laser Institute, the nation's leading medical aesthetics school, offers comprehensive training courses for medical professionals that can be completed in just one weekend.
Each course is specifically designed to prepare physicians, nurses and medical professionals with the skill set necessary to administer non-invasive treatments like Botox in any medical setting! Our goal is for you to feel comfortable and confident in providing several cosmetic injection techniques to your future clientele.
If you are interested in enrolling in one of our courses to become a cosmetic injector, we invite you to check out tens of thousands of National Laser Institute reviews from previous attendees like Dr. Ryan Krch who took several of our CME courses and implemented what he learned in his own practice. You can hear about his training experience in the video below!
Botox training is an exciting career opportunity for physicians who want to expand their practice and increase revenue by adding Botox treatments to their practice. Many RNs take CME training courses to broaden their skill set to start a new full-time career as a cosmetic nurse.
To learn more information about National Laser Institute's medical aesthetics course options, fill out the form on the right or call 1-480-290-7399 to speak with an Admissions Advisor.