4 Things You Didn't Know About Laser Hair Reduction School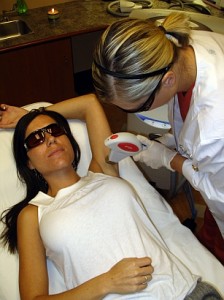 Laser hair reduction is the process of removing unwanted hair with state-of-the-art cosmetic laser technology. With the increasing growth of this particular treatment over the last decade, there has been a wide demand for this permanent hair reduction service. Never having to shave or wax makes life a little simpler, but if you have a passion for the skincare industry did you know it's also simple to become laser trained? Below are 4 things you probably didn't know about laser hair reduction school.
4. You can become trained in two weeks or less. Earning your cosmetic laser training takes two weeks or less with National LaserInstitute's laser training courses. After two short weeks, you'll know everything you need in order to begin treating clients. National Laser Institute's courses give you both classroom and hands-on training with scheduled clients in order to give you the confidence and skills you need to be successful. Plus two weeks of training means you can start your career in the skincare market in no time.
3. You don't need to be a doctor. In most states, you don't need to be a doctor in order to perform laser hair reduction or cosmetic laser treatments. In fact, most states only require that you've earned your high school diploma or GED. Although estheticians do like to receive laser hair reduction training, it also isn't required that you attend esthetician school before coming to a laser hair reduction school.
2. Lasers do more than just remove hair. Laser hair reduction is a common name in the skincare market, but lasers can do more than just rid hair. Cosmetic lasers also have the power to remove unwanted tattoos, eliminate fine lines and wrinkles, fade dark, age, and sunspots, rid acne, and much more. National Laser Institute's comprehensive laser training course covers tons of these in-demand modalities so that you're capable of performing a wide variety of highly requested laser treatments.
1. There is a huge market for it. Did you know the medical esthetics market is a BILLION dollar industry? Overall, noninvasive cosmetic treatments increased 10% in the last year and continue to grow and increase each year. People want longer-lasting results, and the world of medical esthetics is capable of providing just that.
Laser hair reduction school is sounding more and more exciting, isn't it? National Laser Institute is the leading laser school in the nation and has been in this industry for a decade, rising above the educational standard of excellence to provide quality training. You can learn more about our laser courses by filling out the form to your right or by calling us at 480-290-7399.