Get Your Foot in the Health & Beauty Industry Door with Laser Training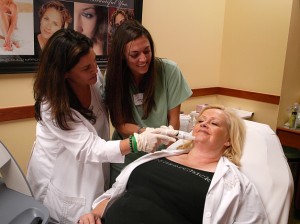 When you're young, it can be both hard and frustrating to land a position in a field you're passionate about. Many people start off as interns and assistants without pay, but a lot of them cannot afford to work that way–especially if they have bills. The good news? Laser training is a great way to get your foot in the door of the health and beauty industry, allowing you to both network and train on some of the hottest, advanced laser technology in the industry.
"I was thinking about going to aesthetics school first," Ashley P., of Southlake, TX said. "But it was actually better for me to complete my laser training before. I ended up really loving the environment! It's a great first job for me."
Benefits of Laser Training
Working as an intern or assistant in other aspects of the health and beauty industry doesn't necessarily promise hands-on training. However, you will experience face-to-face time with clients on top of hands-on laser training when you attend one of our campuses. Even after your laser training, you'll be a cosmetic laser technician, which means you have more opportunities to work with your own clients "in the real world."
There's a few benefits to receiving your laser training before anything else:
• You can train in two weeks or less, so you can begin gaining experience in no time
• You'll have one-on-one time with your own clients
• You'll learn about some of the most advanced and up and coming laser treatments as well as learn how to perform them
• You'll get the satisfaction of helping clients feel more confident in their skin
• Laser training looks excellent on any resume since the medical aesthetics industry is continuously growing and expanding
Many people who receive laser training end up staying within the medical aesthetic and laser field–even those who thought they wanted to be strictly aestheticians. It's a fun, fast, and friendly environment that opens a lot of doors. Many of our students have gone on to work at physicians offices, dermatology clinics, medical spas, or even their own businesses.
Laser Training Campuses
If you're passionate about the beauty industry and have a talent for helping people feel comfortable and confidence in their appearance, then laser training at National Laser Institute is definitely for you. We offer a variety of courses to fit student's needs, as well as both classroom lecture and hands-on training opportunities. We have proudly earned an A+ rating at the BBB and are recognized as gold standard education.
To learn more about laser training or National Laser Institute, please call 800-982-6817 or fill out the form on the right of the screen.
Read more information on: