Aesthetic Laser Training Courses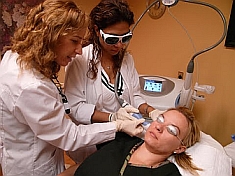 Aesthetic laser training has been increasing in demand over the last couple of years, especially by doctors and nurses who want to add medical aesthetics to their practice and expertise. There are many opportunities you can take advantage of in this billion dollar industry, and we're here to help you capitalize on that.
We are cosmetic laser school who pioneered the laser training curriculum for schools across the nation, setting standards across the nation when it comes to safe, practical, and thorough laser training.
What is aesthetic laser training?
Aesthetic laser training involves learning the most in-demand cosmetic laser treatments offered in spas and doctor's offices across the nation today. These include laser hair reduction, laser tattoo removal, laser acne reduction, laser wrinkle reduction, cellulite reduction, stretch mark removal, photofacials, and much more.
What laser training courses are offered?
National Laser Institute offers a variety of laser training courses that meet standards and regulations. For aspiring laser technicians, you need to attend a laser school that offers 40 hours of didactic lectures, 24 hours of hands-on hair removal training, 24 hours of other cosmetic procedures, and laser safety officer training. National Laser Institute offers you this with their comprehensive laser training courses. You will learn in both a classroom lecture environment as well in a medical spa facility, where you'll be practicing hands-on training with scheduled clients using state-of-the-art laser equipment.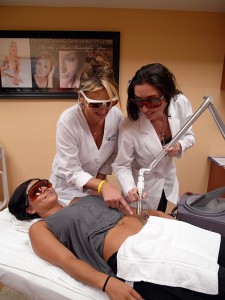 What topics are covered?
• Skin and hair anatomy overview
• Tissue interaction
• Skin type and how it correlates to specific laser settings
• The hair growth cycle
• Pre and post treatment care
• Appropriate consultations
• Laser selection for skin type
• Hands-on laser training
• Laser safety training
• Marketing in the aesthetic laser business
Who can benefit from laser training?
• Doctors
• Physician assistants
• Nurses
• Aestheticians
• Entrepreneurs
• Health and beauty experts
• Career changers
• + More
Don't settle for less when it comes to your laser training. National Laser Institute is recognized as gold standard education and has received many outstanding reviews. They are the leader in the medical aesthetics industry and train hundreds of students each month. To learn more about laser training, laser school, or National Laser Institute, please call 800.982.6817.