How to Enroll in Laser Technician School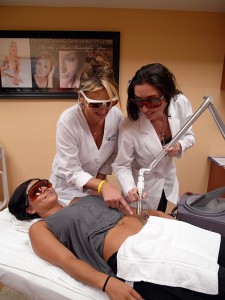 Estheticians and health and beauty lovers are beginning to become more curious about the cosmetic laser industry. Over the last decade, this particular market has boomed throughout the nation.
Laser hair reduction, laser tattoo removal, and laser wrinkle reduction are among the most popular advanced technological treatments within this market, and many people who are already in the beauty field (or who want to begin a new career!) are able to attend laser technician school.
Unlike esthetician school, laser technician school only takes two weeks to complete. This is why we often recommend students come receive laser training before they attend a months-long esthetician training program.
However, you do not need to be an esthetician in order to receive your laser technician certification. We do highlight the prerequisites you'll need below.
In National Laser Institute's comprehensive laser training course, you'll learn everything you need to know about the most in-demand cosmetic laser services.
Our expert laser technicians and medical professionals teach you all about laser safety and settings as well as provide you with hands-on training with scheduled clients within a luxury medical spa setting. By the time two weeks are over, you'll have gained your laser school certification!
What You Need
High school diploma OR
Your GED
*In some states, you will need to be a medical professional (check your regulations)
Comprehensive Laser Training Course
History of laser
Tissue interaction
Client selection
Pre and post care
Laser safety
Laser settings
Laser techniques
Hands-on training with laser services
+ More
About National Laser Institute
National Laser Institute is the leading laser school in the country and was the first to pioneer the cosmetic laser training curriculum that other laser schools use across the nation. They train hundreds of students each month across the U.S. and have received a number of excellent student reviews.
To learn more about laser technician school or National Laser Institute, please call 800-982-6817.