Enter a New Career in Two Weeks with Laser Hair Reduction Training
In a recent poll, it was reported that 70% of Americans dislike their current jobs or work situation. Most won't do anything about it because they feel like they are stuck in a career simply because it is too difficult to find something new, especially in the current economy.
Most people don't realize that the medical aesthetics marketplace has taken off in the last decade. Facials, skin rejuvenation treatments, wraps, and waxing are all still popular, but many customers are looking for longer-lasting or even permanent results. With the rise of cosmetic technology and the advancement of treatments, laser hair reduction training has become more in-demand than ever.
Just last year, there were over 1 million laser hair reduction treatments performed in the United States alone, according to the ASAPS (American Society of Aesthetic Plastic Surgery). Laser hair reduction is one of the top 5 most performed nonsurgical cosmetic treatments in the U.S., and with medical spa growth projected to reach 3 billion in the next two years, it's only going to become more highly in demand.
There are roughly 2,100 medical spas open and running in the U.S., and many of those medical spas offer laser hair reduction treatments. However, before you go applying for jobs you will need training. Don't be intimidated by the word "training," because we have good news: cosmetic laser hair reduction training only takes two weeks or less to become trained.
New Career in Two Weeks at National Laser Institute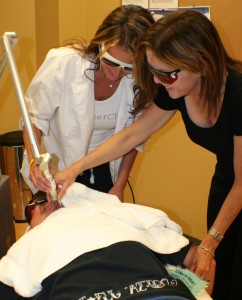 National Laser Institute trains hundreds of attendees each month ranging from aestheticians, medical professionals and, yes, even career changers. In fact, did you know that the majority of people who attend laser hair reduction training are career changers? So if you're worried about being the odd one out or being alone in a sea of people who know more than you–you don't have to sweat it! Receptionists, servers, customer service representatives and more have come to National Laser Institute to start a new career in this booming billion dollar industry.
National Laser Institute's laser hair reduction training is a part of a larger two-week comprehensive laser course. This course provides attendees with classroom time led by leading medical aesthetic experts where you will learn all about the skin, the laser equipment, safety and regulations, settings, and more. Next comes hands-on clinical training with a variety of laser treatments (including laser hair reduction training) including IPL (intense pulsed light) skin rejuvenation, radiofrequency skin tightening, laser cellulite reduction, laser acne reduction, laser tattoo removal, and so much more.
These two weeks are jammed packed with knowledge taught in a easy, simple way from experts who have been in the industry for years. They make learning fun so you can go out and feel confident when performing treatments on your own clients!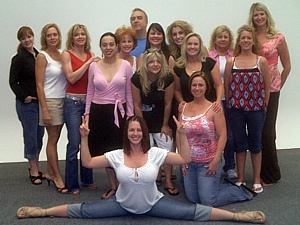 National Laser Institute is the leading laser training school in the nation and has been in this industry for over a decade. We were the first to pioneer the laser training curriculum and firmly believe in training students to safely and effectively treat clients, even offering free classroom refresher courses for those who feel like they need it.
We also offer a Graduate Services Department for our graduates–especially those who want to change careers–where we give out 100-200 job leads each month to help you find your perfect opportunity!
To learn more about changing your career, laser hair reduction training, or National Laser Institute, simply fill out the form on your right or call 480-290-7399.
Learn more: