Has Laser Hair Removal Improved?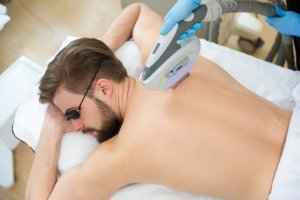 Many people come into the cosmetic laser field with many questions about the technology and how it has evolved in this industry. Questions such as has laser hair removal improved among other questions related to technology evolving in this field. This is a great time to get into the industry of medical aesthetics. New technology is coming out all the time and services are more in demand than ever. Keep reading to find out how technology has improved and how you can get started in this booming industry!
So has laser hair removal improved?
Laser hair removal treatments are one of the most in-demand treatments when it comes to cosmetic laser treatments. Women and men waste hours of their lives shaving. They have to spend money on razors and shaving cream or waxing treatments. When clients come and get laser hair removal they can trust in this treatment. Being a laser technician who achieves those results for clients can be pretty rewarding. It is your job as the technician to assure your client if they have any questions such as has laser hair removal improved, that you are able to assure them of the power of this laser that will get rid of recurring hair growth almost altogether. 
Do you want to be a laser technician?
Do you want to get into this exciting industry? Want to treat clients with the latest treatments in hair removal, cellulite reduction, acne, wrinkles, dark spots, and more? This industry is booming and jobs are in demand. You can work at a variety of places such as medical spas, physician offices, tattoo shops, and spa. The choice is really yours and in this industry, you have so many choices. During your program with us, you will learn all the latest in-demand cosmetic laser treatments and in our program, you will even be able to work hands-on with real paying clients. We believe there is nothing better than being able to learn by doing. Once you graduate you will feel confident in your abilities as a laser technician and you will be able to confidently go out into the workforce and get a job.
By the time you finish our program and graduate you will be able to:
Go out and get a job in this booming industry!
Assess your client's skin
Know the best treatment for your client's skin issues
Feel confident in your ability to use lasers
Safely use lasers
You will be able to find a job at places such as:
Medical Spas
Physician Offices
Fitness Centers
Luxury Spas
And many more places as time goes on!
Get started in this industry today!
Know that you know about how has laser hair removal improved and learn more about the industry, give us a call! Your dream career could be one call away!
During our Online Comprehensive Laser Course you will receive online classroom laser training with a variety of instructors and live demonstrations with several hours on each modality. Then choose one of our nationwide locations to attend your clinicals for hands-on learning!
Modalities include Laser Hair Removal, Photofacial, and Laser Skin Rejuvenation. As well as Radiofrequency Skin Rejuvenation, Coolsculpting, and Microneedling. And so much more!
If you're ready to get started in the medical aesthetic industry then give us a call at 855-637-4530 to talk with one of our admission representatives. They'll answer all your questions and guide you through the whole process.