How to Become a Cosmetic Laser Technician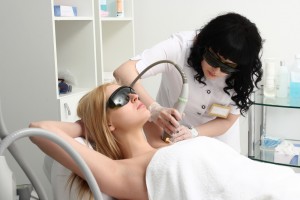 In the more than ten years since National Laser Institute has been in existence—training thousands of students in cosmetic lasers—this is one of the questions we get asked most frequently: How do I become a cosmetic laser technician?
A lot of people assume that getting a quality cosmetic laser education requires months of training as well as an aesthetics or cosmetology background.
And while we do get a substantial number of aestheticians and cosmetologists wanting to add cosmetic laser services to their existing skill sets, we get just as many career changers—folks who are completely new to the industry, looking for a career they can feel truly passionate about.
And those "months of training" you asked about? Not to worry — at National Laser Institute, you can be fully trained in cosmetic lasers, in just two weeks or less.
We agree—it sounds almost too good to be true! Because, aren't there many different types of cosmetic lasers, as well as different laser hand pieces for different treatments? And, doesn't a person's skin type have a lot to do with how it will react to certain lasers? And, aren't there even some skin types that cosmetic lasers shouldn't be used on? And, can't I just get trained by a laser manufacturer's sales representative?
Great questions! If you're asking them, it shows you're an excellent fit for the cosmetic laser industry. It means that you care, and are willing to do the work that it takes to be good—really good—at what you do.
Cosmetic Laser Training
Let's look more closely at those questions: Yes, there are many different types of cosmetic lasers, and several different hand pieces.
That's why National Laser Institute offers both classroom and hands-on training on numerous machines; before graduation, you'll perform many hours of actual treatments on real clients in a supervised classroom setting. You'll also learn:
Skin anatomy
Tissue interaction
Fitzpatrick Skin Types
Laser safety
Machine maintenance
and even marketing in a competitive but lucrative industry
And while laser manufacturer sales representatives are usually happy to do a demonstration or mini training session on the machine(s) they sell, they're no substitute for intensive classroom and hands-on training on a multitude of machines.
If you're thinking about cosmetic laser training, do your homework. Ask around. Check with successful medical spas and day spas and inquire where their cosmetic laser technicians were trained. Chances are, it was at National Laser Institute. And when you ask, "How do I become a cosmetic laser technician?" Remember, sometimes the first step toward doing something you love includes simply picking up the phone.
For more information on how to become a cosmetic laser technician, click here or call us at 800-982-6817.