Gaining a Lucrative Career in the Skin Care Industry with Laser Hair Reduction School
Laser technicians are trained experts in the field of cosmetic lasers and with proper training are capable of performing a wide variety of laser treatments, such as laser hair reduction. Like estheticians and cosmetologists, laser technicians find joy in helping improve client's skin care concerns using the latest and advanced technology.
Benefits of Becoming a Laser Technician
Laser technicians experience a variety of benefits within this career field. More people are seeking out cosmetic laser technology in order to improve their aesthetic appearance, and laser technicians are the ones who are trained to provides these type of treatments. It's also a cosmetic industry, meaning there is no hassle of insurance. The money you make from your client is entirely your profit.
One of the greatest things about becoming a laser technician is the time it takes to receive your training. Unlike esthetician school, which can takes months to complete, laser hair reduction school can be completed in 1-2 weeks. Your training includes classroom learning as well as your hands-on clinical training.
Work Environment
Careers as a laser technicians are very versatile. Many laser technicians continue on to work in doctor's offices, dermatology clinics, health care facilities, medical spas, salons, laser facilities, or health and fitness locations.
Before you consider laser hair reduction school, you must be aware of these types of work environment. This is a career that allows you to interact with people on a daily basis while helping improve their skin concerns. Most people who become laser technicians are friendly and kind to clients in order to build a relationship with them in hopes they may return for more treatments.
Education Requirements
To become a laser technician in most states, you must meet the following requirements:
18 years or older
Have a high school diploma or GED
Pass an exam during your laser course
Meet your state's required hours of hands-on training
Meet your state's required hours of classroom education
Subsequently, those who are already in the skin care industry–such as estheticians who've attended esthetician school–are eligible to enroll in a laser hair reduction course in most states. Many states also allow those who want to change careers to enroll in a laser training course as well.
Training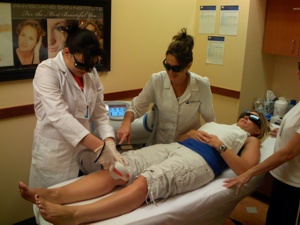 All state's will most likely require you to complete a set number of hands-on training hours, which is why attending an actual laser school is so important.
National Laser Institute is a leading laser school that offers a one-week laser hair reduction course. Students will learn from experts in the industry and receive hands-on training on only the latest and most advanced laser equipment. This laser training course teaches students everything from laser safety to interactions with different skin types to equipment functionalities to hands-on training within a luxury medical spa.
Income Information
As a laser technician, you have the opportunity to make a good income. Every place of work is different, however. Most will pay hourly plus commission, but there are some places that do pay salary or are just based off a commission structure. Depending on where you work and how new to the field you are, laser technicians on average tend to make between $15 – $25 per hour. Again, however, it also depends on your location and your work environment.
Laser Hair Reduction School at National Laser Institute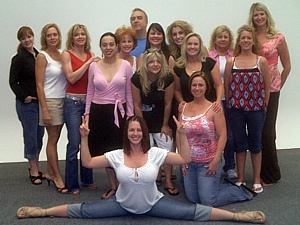 National Laser Institute is a globally recognized laser school and has been in this industry for over a decade. We are recognized as gold standard education and go above and beyond to provide students with the materials and knowledge they need to succeed in this industry, even offering a graduate services department as well as access to the largest online library for medical esthetics!
To learn more about laser hair reduction school or National Laser Institute's courses, please call 800-982-6817.