Laser Hair Reduction Classes and Training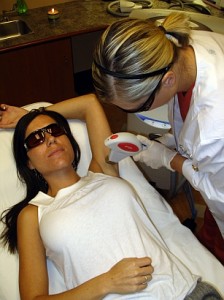 In the last decade, the medical aesthetics market has blossomed into a billion-dollar industry by providing cosmetic laser and injectable treatments to those seeking nonsurgical beauty treatments. More people are requesting these services, making room for new laser technicians and medical aestheticians within the marketplace. If you're looking to take a class such as laser hair reduction classes then a program at National Laser Institute may be for you.
National Laser Institute provides laser hair reduction classes and medical aesthetician training that aestheticians, medical professionals, or career changers need in order to work within the industry.
Our comprehensive laser training provides the materials and educational opportunities you need in order to become confident within the field of cosmetic lasers, laser safety, and laser hair reduction.
Who Can Attend Laser Hair Reduction Training?
Because regulations differ in each state, you will want to determine what prerequisites you'll need in order to attend our classes. To find out your state's regulations, you can call 800.982.6817.
Our laser hair reduction classes are open to:
Medical professionals
Aestheticians
Entrepreneurs
Health and beauty experts
+ More
What Will I Learn?
National Laser Institute's comprehensive laser course includes everything you'll need to know in order to work within the medical aesthetic industry. On top of laser hair reduction, you will learn how to safely perform photofacials, laser stretch mark removal, laser wrinkle reduction, laser acne reduction, and much more. National Laser Institute prides itself on offering both clinical and didactic portions of the class so students have the opportunity to receive both hands-on and classroom training.
Topics in this course include:
Treatment history
Laser safety
Aesthetic overview
Client selection
Pre and post-care
Hands-on laser training
+ More
Are There Career Opportunities in Laser Hair Reduction?
Absolutely. We've seen our students start their own cosmetic laser business, work for dermatology/OBGYN/medical professional environments, work for med spas and salons, and many more.
National Laser Institute
We are the leader in the medical aesthetics industry and were the first to pioneer the laser training curriculum that laser schools use across the nation. To learn more about laser hair reduction classes or National Laser Institute, please call 800.982.6817.