Laser Hair Reduction Training in Dallas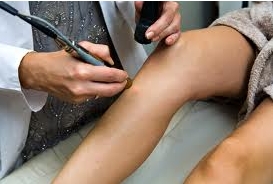 Laser hair reduction is one of the top most in-demand nonsurgical cosmetic treatments with over 1 million treatments performed just last year. Because people love new technological advancements, especially when it comes to the latest and greatest skin care treatments, the world of cosmetic lasers has continued to boom over the last decade. And with permanent no-more-hair results, who would want to say no to treatments?!
If you're interested in laser hair reduction training in Dallas, you can attend a laser hair reduction certification course and begin treating your own clients. National Laser Institute offers a course that is only a little over two weeks long that will not only certify you in laser hair reduction treatments, but also many of the most in-demand laser treatments across the globe.
Comprehensive Laser Hair Reduction Training
For those interested in specifically acquiring laser hair reduction training in Dallas, National Laser Institute offers a comprehensive laser course that includes not only laser hair reduction training, but many other in-demand cosmetic laser treatments, such as laser acne and cellulite reduction.
In this laser training course, students will learn in a classroom environment from top industry experts and professionals as well as in a retail medical spa where they will receive hands-on experience with scheduled clients and train on the latest cosmetic laser equipment.
Laser safety
Treatment history
Client selection
Pre and post care
Laser hair reduction techniques
Hands-on training
IPL training
Laser tattoo, spider vein, acne and cellulite reduction
Radiofrequency skin tightening
+ Much more
About National Laser Institute
National Laser Institute is proudly recognized as the leader in the medical esthetics industry and has received a gold standard of education. The comprehensive laser training course is offered in Dallas as well as Scottsdale, AZ but they also offer destination courses throughout the nation. If you'd like to learn more about laser hair reduction training in Dallas or National Laser Institute, please call 800.982.6817.