Everything You Need to Know About Laser Schools
The Industry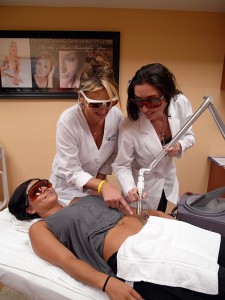 Laser hair removal was ranked as one of the most in-demand nonsurgical treatments last year, bringing in over 2 million treatments. But laser hair removal isn't the only popular cosmetic laser treatment on the market. Over the last decade, laser tattoo removal, laser acne reduction, laser wrinkle reduction, and more have been some of the safest and most effective ways to improve your skin.
Cosmetic laser schools are designed to train people to become laser technicians. There are many laser schools located throughout the United States, but National Laser Institute is the original laser school who pioneered the laser training curriculum for schools across the nation, making us the leader and "Harvard" of laser schools. That being said, we're here to provide everything you need to know prior to enrolling in a laser training course.
Regulation
Regulation is one of the most important things you must understand before enrolling in a laser school. Some state regulations say that you must be a medical professional in order to attend a laser school. However, most states allow anyone with a high school diploma or GED to receive a laser training education. To learn more about your state's regulations, call 800.982.6817.
Laser Training Courses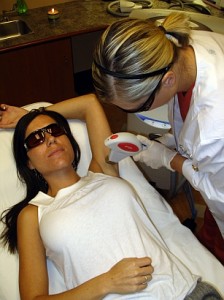 There are many things you want to look for in a laser training course. Many students find comprehensive courses the best since they cover a wide variety of treatments. National Laser Institute's comprehensive laser course covers laser hair removal, laser stretch mark reduction, laser wrinkle reduction, laser acne reduction, photofacials, and much more. There are also courses that specialize in one modality, like laser hair removal and nothing else. If your goal is to only receive training on one cosmetic laser machine, then these types of courses would be more for you.
You also want to attend a laser school that offers hands-on training with the treatments you'll learn. National Laser Institute offers hands-on training within our luxury medical spa setting, and clients work with scheduled clients with varying skin concerns. This clinical setting allows students to take what they've learned in the classroom and put it into practice. Some states may require that laser technicians have a certain amount of hands-on training hours completed before they can perform treatments on their own clients.
Finally, the quality of the laser school. You want to attend a laser facility that offers experts in the field, a friendly, welcoming environment, and a laser school that offers thorough knowledge within your course. National Laser Institute offers all of this and more. We are the leading medical aesthetician school in the country and are dedicated to helping you every step of the way. We are recognized as gold standard education and have earned many outstanding reviews. To learn more about laser schools or National Laser Institute, please call 800.982.6817.