Laser Tattoo Removal: A Booming Industry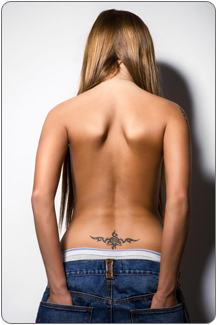 Laser tattoo removal is now one of the fastest growing sectors in the cosmetic laser industry due to several recent technological breakthroughs. Previous generation lasers broke the top layer of the skin, which resulted in slow-to-heal areas, painful scarring and open wounds. Our laser system directly targets and stimulates the ink to fade away, avoiding dreadful side effects of scarring, wounds, pain and downtime.
Older tattoo removal technology also treated only a limited amount of ink colors. Our technology utilizes multiple wavelengths, allowing us to treat more colors and remove more types of tattoos. Truly, our laser system is one-of-a-kind! It stands above all other competitors for the simple reason that it is far gentler on the skin. Nearly all other lasers in the marketplace today aggressively tear through the top layer of skin to make a tattoo disappear. Our technology targets the pigment and gradually fades it away, rendering it one of the only technologies in the marketplace that does not require clients to apply after care products and bandaging. After treatment, clients are good to go!
Everyone knows how popular tattoos have become in recent years. However, did you also know that an overwhelming majority of people who get tattoos later want them removed? Sometimes the tattoo simply does not fit a person's lifestyle anymore, or perhaps it reflects a time in their lives they would rather forget. Tattoo removal is becoming one of the fastest growing sectors in the medical aesthetics industry, and is the perfect career for someone who loves working directly with people, appreciates the ever-growing industry, wants schedule flexibility and enjoys earning money.
Think A Career In Medical Aesthetics Might Be Right For You?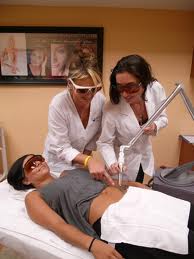 Many of our clients and models initially come to our warm and professional environment simply to receive the very best in aesthetic laser treatments. However, when they see what National Laser Institute is all about, they too want to join the exciting field of medical aesthetics. In fact, some of our most successful students were former laser tattoo removal clients.
Ask yourself this, "What if I could attend school for a total of two weeks and then immediately begin a new and exciting career in innovative laser technology?" The answer is yes, and not only is it possible, but the opportunity awaits you. National Laser Institute is your stepping-stone to a fresh, exciting career in the medical aesthetics field.
This program is available for individuals seeking a new career, as well as aestheticians and health and beauty professionals looking to advance their professional status. In most states, laser and Intense Pulse Light (IPL) training does not require a medical background, prior education, work experience or prerequisites.
Consider The Advantages Of The Medical Aesthetics Industry
Americans spent nearly $16 billion on cosmetic procedures last year. Treatments are performed in medical spas, day spas, wellness centers, doctor offices, dental offices, nail salons and hair salons. Over the past decade, procedures have generated a tremendous amount of revenue, creating jobs and opportunities just to fill the growing demand of the marketplace. Over 15.4 million laser hair removal, skin rejuvenation, laser tattoo removal and IPL based treatments were performed in the past 12 months! These earned more than $8.3 billion for practitioners. The ASAPS reported that there was a 3% increase in nonsurgical treatments last year within this $16 BILLION industry!
High earning potential
An exploding marketplace: The demand for nonsurgical cosmetic procedures has increased 754% since 1997.
Satisfied customers because they look and feel their best.
Always new technologies to use.
A cash business – No insurance involved
Q: Do I need to be an aesthetician to do laser?
A: Click here for the answer that may surprise you!
 Aesthetic Laser Training is for People Who Enjoy:
Helping people
Working with state-of-the-art laser equipment
Building one-on-one relationships
Expanding their skills
Learning advanced laser protocol techniques
Increasing their professional status
 Individuals Who Seek Aesthetic Laser Training Include:
Cosmetologists
Aestheticians
Makeup artists
Skin care specialists
Nurses
Anyone seeking an exciting and rewarding career change!
 As A Laser Technician, You Will Treat Conditions Like:
Unwanted Hair
Scarring
Age Spots
Broken Capillaries
Sun Damage
Acne
Wrinkles
Rosacea
Cellulite
Unwanted Tattoos
Varicose Veins
Skin Tags
Tired, Aging Skin
Psoriasis
And so much more!
For more information on our laser tattoo removal course and other exciting laser and medical aesthetics courses offered, visit National Laser Institute.