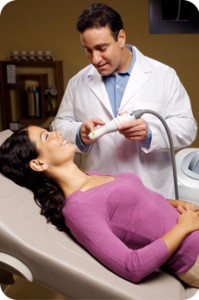 People who want to enter the health and beauty industry should consider medical aesthetics before aesthetics school. This is ideal for a number of reasons. For one, medical aesthetics school doesn't take as long to complete as aesthetic school does. Plus, students have the opportunity to learn aesthetic treatments, like chemical peels, on top of the most in-demand laser treatments on the market today.
Once you attend laser technician school, you have the opportunity to work in various different places, such as medical spas, dermatology clinics, doctor's offices, salon, and more. This is typically under the supervision of a medical director, depending on your state's regulations. However, this means you're able to provide a variety of laser treatments to clients, including laser hair removal, laser tattoo removal, laser wrinkle reduction, and many more.
The biggest reward many laser technicians experience is giving their clients the confidence of having clear, beautiful skin. Laser technician school teaches students how to use the most advanced laser technology, gives them hands-on training with scheduled clients, teaches about skin type and tones in conjunction with laser treatments, and much more.
The medical aesthetics industry has been on the rise for the past few years. In fact, the U.S. Bureau of Labor Statistics stated that skin care specialists were ranked in the top thirty for fastest-growing careers in the U.S. through 2016. If you had any doubts about joining the cosmetic laser industry, don't. Now is the time to act.
National Laser Institute is one of the most prestigious laser technician schools in the U.S. They've been around for a decade and teach over 100 students in their Dallas and Arizona locations each month. They believe in both hands-on and classroom training in order for students to get the best clinical and didactic experience. Students are trained by professionals in the field and work with only the most advanced laser equipment.
To learn more about laser technician school or National Laser Institute, please call 480-290-7399.
Want to learn what our students are saying about our training school? Check out our testimonial video below!
Learn more: