How to Become a Laser Technician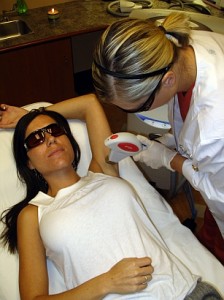 Because of the high demand for cosmetic laser treatments, the medical aesthetics industry continues to grow and expand.
Many people are under the impression that you need to be a nurse, doctor, or medical professional in order to receive laser technician education.
While that may be true in some states, it's not true for all. There are multiple states across the U.S. that allow cosmetologists, aestheticians, and total career changers to become cosmetic laser technicians in order to provide laser treatments for clients.
How To Become a Laser Technician
If you are thinking about becoming a cosmetic laser technician, here is your step-by-step guide.
1. Research Laser Technician Career Options
The first step to becoming a laser technician is researching your career options. It is best to know as much as you can about the medical aesthetics field before jumping into laser training.
You should know that laser technicians have gone forward to work in dermatology clinics, doctor's offices, medical spas, and more! Realize that this is the type of work that requires you to interact with clients while handling state-of-the-art equipment in order to restore confidence in their skin, and be sure that you're just the type of friendly, upbeat people-person for this specific job.
2. Choose Your Laser School
You don't want to attend just any laser school. Unfortunately, there are some laser schools that scam students by providing them with an education that is not properly trained under specific regulations, which means they are just wasting your time and money. When researching laser schools, be sure they are reputable, and give you legitimate training to go forth and begin working in the industry.
At National Laser Institute, we have licensing from the Arizona Board of Private Post-Secondary Education, the Arizona Radiation Regulatory Agency, the American Academy of Family Physicians, the Western Multi-State Division, the Texas Department of State Health Services, and the Texas Workforce Commission among others.

3. Attend a Laser Training Course
Once you do your research, it is time to attend laser training!
National Laser Institute offers hands-on laser training courses that can be completed in just 1-2 weeks.
Our most in-demand course is our Comprehensive Laser Course, which covers modalities like laser hair removal, laser tattoo removal, laser acne reduction, laser wrinkle reduction, photofacials, and more. Laser technicians also perform treatments like radiofrequency skin tightening, laser stretch mark reduction, and much more!
The first half of the course is spent in the classroom where you will learn from up to 13 different instructors about things like tissue interaction, facial anatomy, pre-and post-patient care, and more! This will prepare you for your clinical hands-on training.
The second half of the course will be spent doing clinical hands-on training in a medical spa environment. You will watch comprehensive laser demonstrations no more than a foot away from the training bed as well as perform these treatments yourself in order to feel comfortable and confident in any medical setting! What sets us apart from other laser schools is we have a dedicated staff that works around the clock to book scheduled clients for you to work on.
Laser Technician Salary
We have been in this industry for a decade and have seen a few different payment styles when it comes to salary. Typically, a laser technician may make between $15-$25 an hour and some are even offered between 3-50% commission. However, some work solely off commission or salary. It all depends on your employer, location, and what treatments you may be providing.
According to the U.S. Bureau of Labor Statistics, skincare specialists can expect job growth of 40 percent between 2012 – 2022, and this is considered faster than average!
With National Laser Institute, you can complete your laser training at our laser school in two weeks with our comprehensive laser course. We are recognized as gold standard education and have received many outstanding reviews.
To learn more about laser technician training or National Laser Institute, please call 800-982-6817.