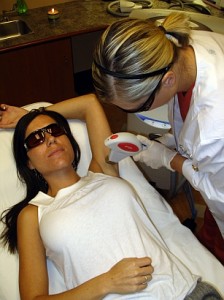 The field of medical aesthetics has bloomed and blossomed over the last decade.
With an influx of both medical professionals and career changers wanting to be in the know about cosmetic laser treatments, many places are offering laser training programs that are tailored to learning all about the most in-demand treatments.
Below we'll cover the three most common questions when it comes to laser technicians–education, the program, and jobs/salary.
What Type of Education Do I Need?
There are many laser training programs across the United States. However, aspiring medical aesthetic professionals will want to be sure to attend a legitimate educational facility. This means you will want to:
Go to the right laser school
Has expert instructors teaching the course
Follows appropriate regulations and state guidelines for training
Offers students hands-on training
And meets the required clinical hours by state.
Failure to attend an esthetic school that meets these demands means that the student will be spending more time and money making up training hours or a whole legitimate training program in the long run.
What Types of Programs Are Available?
At National Laser Institute, you can be sure you're attending a prestigious educational facility when you enroll in one of our many laser courses. Typically, a laser program will cover laser safety, tissue interactions, anatomy and pathophysiology, how different skin types react with cosmetic lasers, and thorough instruction regarding how to perform in-demand laser treatments.
We go above and beyond and offer students hands-on clinical training with scheduled clients so that students get the feel for performing treatments on actual people. This prepares them to perform confidence cosmetic laser treatments in the future.
How Much Can I Make As A Cosmetic Laser Tech?
According to the U.S. Bureau of Labor Statistics (BLS), skin care specialists–in which laser technicians are grouped into–hold about 39,000 careers in the U.S. This information was gathered in 2008, as no new studies have determined what that number was in 2011. However, the BLS said it also expected jobs to grow to about 54,000 by 2018.
Medical aestheticians earned a salary in the range of $25k-$35k according to Payscale.com in 2011. However, we have been in this industry for a decade and typically see medical aestheticians earn anywhere between $15-$25 hourly with 3%-20% commission. The BLS has placed skin care specialists in the top 30 rapidly-growing careers in the U.S. through the year 2016.
At National Laser Institute, you can receive your laser training in two weeks or less and be ready to start a new career right when you've completed your course. We are the leader in the medical aesthetics industry and have earned a gold standard in education.
To learn more about laser training or laser technicians, please call 800-982-6817.