Laser Training for Estheticians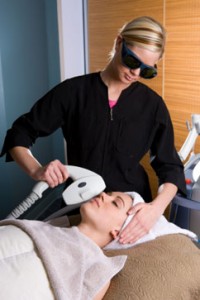 As an esthetician, you're used to performing facials, waxing, peels, wraps, tweezing, and more. But as technology has advanced over the last decade, more and more people are drifting toward cosmetic laser treatments for more advanced skin care techniques with faster and more effective results.
Lucky for you, in most states estheticians are qualified to receive cosmetic laser training and certification. Even better, laser training only takes two weeks to complete a full, comprehensive course versus multiple months! This means that in no time you could be on your way to performing cosmetic laser treatments for your already established clients.
Why Laser?
For one thing, the cosmetic laser market has been growing and expanding over the last decade. In fact, the entire medical esthetics market is a BILLION dollar industry! According to recent statistics, the medical esthetics industry is supposed to reach 3 billion dollar market by 2016.
Here's some statistics from the ASAPS: Last year, there were over 1 million cosmetic laser hair reduction treatments performed in the U.S., ranking it the #3 most popular nonsurgical cosmetic treatment. Laser skin rejuvenation treatments are also gaining in popularity, especially with advanced laser technology such as the Fractional, eMatrix, MicroLaserPeel, and more.
Career Opportunities
Not only will you expand your skillsets by adding laser certification to your esthetician background, but you'll also receive a variety of new career opportunities. This can include working in the following:
Doctor's offices
Dermatology clinics
Medical spas or laser facilities
Fitness centers
+ More
Laser Training Course Objectives
National Laser Institute is the leading medical esthetician school that provides laser training for estheticians. In our two week comprehensive training course, you'll learn everything from laser hair reduction, laser wrinkle reduction, laser stretch mark reduction, laser cellulite reduction, photofacials, laser acne reduction, and much more.
Our comprehensive laser training course is broken down into two parts. The first part is classroom training led by expert instructors within the field. The second part is your hands-on clinical training where you will practice your techniques on scheduled clients within a luxury medical spa setting. Here you will learn all about the laser equipment, laser safety, and how to treat clients with different skin concerns and tones. It's the best of both worlds!
National Laser Institute
National Laser Institute is recognized as gold standard education and was the first laser school to pioneer the laser training curriculum that other laser schools across the U.S. use. We are the Harvard of the cosmetic laser industry and have earned many outstanding reviews. To learn more about laser training or medical esthetician school, please call 480-290-7399.