Learning About Laser School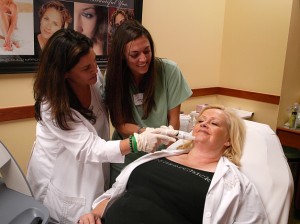 Miley Cyrus, Megan Fox, and Lea Michele have all received laser tattoo removal treatments. Alyssa Milano, Kathy Lee, and Kim Kardashian have all had laser hair reduction treatments. And that's only the beginning of the list! So many Hollywood celebrities have opened themselves up for the nonsurgical world of cosmetic lasers to improve and perfect their skin. But the secrets out, and now these treatments are available for an affordable price at almost any medical spa, dermatology clinic, or doctor's office. Now you can even go to laser school and learn how to remove tattoos by becoming a laser tattoo removal technician!
The medical aesthetics industry is a billion-dollar marketplace, and it's an industry that's continued to grow throughout the last several years. This is just one of the reasons why many people are seeking out a career change opportunity to become a certified laser technician with the help of laser school.
What is Laser School?
Laser school presents a certified and regulated learning experience for those who want to officially become cosmetic laser technicians and work within the world of cosmetic lasers. National Laser Institute is the first school who pioneered the cosmetic laser training curriculum and it is one that many other laser schools across the nation follow. Laser school is designed to give you the knowledge, expertise, skills, and confidence to perform the most in-demand cosmetic laser treatments for your own clients.
Do I Have to be a Doctor or Aesthetician?
This is the most common question we get asked prior to attending laser school. The answer for most states is no, you do not have to be an aesthetician or doctor to attend laser school. Many states only require a high school diploma or GED. However, there are a few states out there that do only allow medical professionals to perform cosmetic lasers based upon state regulations. To learn about regulations in your state, you can call 800.982.6817.
Which Laser Training Course Should I Take?
We recommend our comprehensive laser training course for a few reasons. One, this course introduces you to the most in-demand cosmetic laser devices and treatments in the industry. Two, it's designed so that anyone can learn within this industry in only two weeks because that's how long it takes to complete this course under state regulations. The comprehensive laser course is also broken into two parts for maximum educational opportunity. The first part is classroom and book learning taught by medical aesthetic experts who have been in the industry for several years, if not a full decade. The second part is your hands-on training within a retail medical spa environment. Here is where you will get to practice what you've learned on real clients by taking the cosmetic lasers into your own hands and improving your laser techniques with the help of expert instructors.
What Will I Learn?
The objectives of this course are:
Laser safety
History of treatments
Tissue interaction
Laser functions
Client consultation
Pre and post-treatment care
Laser techniques
Hands-on training
Much more
Laser School at National Laser Institute
National Laser Institute is recognized as the Harvard of laser schools across the country and is also recognized as gold standard education. If you're looking for a quality cosmetic laser school that will give you everything you need to know about the industry, safety, and treatments, NLI is for you. To learn more about laser school or National Laser Institute, please call 800.982.6817.