Medical Aesthetics: "Happy Medicine" for Passionate Nurses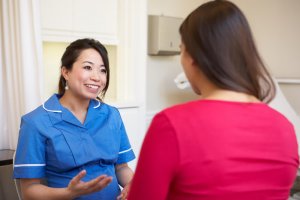 Why do you love being a nurse? Let us (help you) count the ways!
We believe that a nursing career is the perfect choice for someone looking to combine a passion for helping people with a love for science.
And though these qualities make nurses an integral part of the medical profession, there's another side to nursing that isn't for everyone: the physical demands of lifting patients and heavy equipment, the 12-hour shifts that often include holidays and weekends, the emotional side of nursing—especially in ER and hospice nursing—not to mention the daily grind of case management, endless paperwork and frustrating insurance hassles.
That's why so many nurses and other medical professionals have decided to make a lifestyle/career change by joining the exciting world of medical aesthetics. In the medical aesthetics industry, nurses are still able to utilize both their specialized education and hard-earned skill sets. They can also continue helping others feel good about themselves—but without the more challenging aspects of traditional nursing.
We like to call it "happy medicine." Over the past decade, the number of nurses and other medical professionals who've either switched over to medical aesthetics entirely or, added medical aesthetics services such as Botox and dermal fillers on a part-time basis to supplement income, has grown significantly. And while just a few short years ago, plastic surgeons and dermatologists had cornered the market on medical aesthetics services— today, services including cosmetic injectables, cosmetic lasers and nonsurgical body contouring can be found in many locations including general practitioner offices, OB/GYN offices, medical spas, day spas, hair salons and niche boutiques.
The number of consumers demanding medical aesthetics services has also grown by leaps and bounds. While Baby Boomers in particular have added significant weight to this highly profitable industry (in 2016, more than $16 billion was spent in the US on cosmetic procedures), younger clients—interested in preventative anti-aging treatments and cosmetic enhancement—are showing their own brand of interest. As medical aesthetics services have improved in technology and pricing has decreased among competitors, it's becoming a market both open and accessible to just about everyone.
While some nurses choose to focus only on cosmetic injectables including Botox, dermal fillers, and Kybella for submental chin fat reduction—others wish to offer a complete range of medical aesthetics procedures including:
Cosmetic lasers for anti-aging procedures
Tattoo and hair removal
Cellulite and fat reduction
Platelet-rich plasma (PRP) anti-aging treatments and PRP with micro needling
Medical grade chemical peels
And more!
The preference is individual, based on the number of hours one wishes to work, the place of employment and the types of services one enjoys doing. Some nurses work at physicians' offices, while others chose to go out on their own while working under a physician's license (requirements vary by state).
Full-time or part-time, injectables and/or lasers—the options for nurses to practice happy medicine are numerous—and without a doubt, here to stay.
For more information on cosmetic laser and cosmetic injectables training for nurses, or for any of our courses for medical professionals, click here or give us a call at 800-982-6817.