Dermal Filler Certification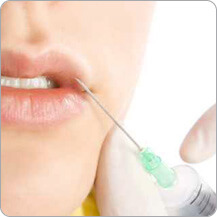 Dermal fillers are an in-demand anti-aging solution for those looking to contour cheeks, fill in lips, or rid deep aging lines in the face. As the #2 noninvasive cosmetic treatment in the nation, dermal fillers are the answer to more youthful skin. Because of the demand, more medical professionals have been receiving dermal filler certification in order to offer this treatment to clients.
In order to earn dermal filler certification, you must be a Registered Nurse (RN), Physician (MD & DO), Nurse Practitioner (NP), Physician Assistant (PA), Dentist (DDS & DMD), or other qualified health professional. Certification allows you to safely administer the cosmetic uses of dermal fillers, including Restylane®, Perlane®, and Juvederm®.
Dermal fillers certification can be completed in as little as a weekend course that earns you CME or CE credit. Courses offered by accredited schools like National Laser Institute offer hands-on clinical training courses. Led by leading experts and medical professionals in this field, attendees will learn the safety protocols and techniques for administering dermal filler treatments to clients alongside clinical practice in a luxury medical spa environment.
Because dermal fillers are a cosmetic service, many medical professionals benefit from capitalizing on the cash-in-hand business. There is no dealing with messy insurance reimbursements because it is a cosmetic service. A typical dermal filler treatment after the consultation takes between 20-30 minutes. With dermal filler treatments averaging between $500 – $700 per client, you can benefit from offering this service.
Dermal Filler Certification at National Laser Institute
National Laser Institute is the leading cosmetic medicine school in the nation, offering a variety of hands-on medical esthetic courses. Medical professionals will administer leading brands of dermal fillers to clients with expert supervision in our medical spa environment. Dermal filler certification is awarded upon course completion.
If you'd like to learn more about our courses or dermal filler training, simply fill out the form on your right or call 800.982.6817.