This 2-day course is led by industry leading medical professionals. Attendees will learn and understand the protocols associated with this non-surgical procedure as well as safety.
Doctors, nurses and other medical professionals can take our 2-day PDO thread lift course.
The PDO thread lift course is offered for medical professionals who have completed National Laser Institute's Botox, Dermal Filler & Advanced Injectable Course OR has 6 months of Botox/Dermal Filler injecting experience.
PDO Thread Lift Program Objectives
Our 2-day course on PDO threads includes didactic and hands-on training. During the classroom portion, attendees will learn a brief history of PDO threads, indications for use, as well as prevention and management of complications. A comprehensive demonstration will be performed during classroom instruction.
Attendees will also learn about:
Patient selection
Facial anatomy
The benefits of PDO threads
Techniques for optimal results
During the second half of the course, attendees will have hands-on training, working on real clients in an educational setting. The class is broken up into small groups — no more than five attendees per instructor.
Attendees will be just a foot from the training bed where they will watch instructors perform live demonstrations and their peers practice PDO threads. In addition, they will have the opportunity to work on scheduled clients in order to gain real world experience.
By the end of the course, attendees will know how to administer some of the most popular PDO thread treatments:
Cheek vector lift
Jaw lift
Lip enhancement/Peri oral lines
Nasal labial folds
Neck lift
Eyebrow lift
And attendees will demonstrate the use of three types of threads: barbed, smooth and twist.
---
Sample Course Schedule: PDO Threads CME/CE
TOPIC/DATE
TIME
ACTIVITY
Intro to PDO Threads Training and Hands-On Clinical Practice
Day 1
8:30am – 11:00am
Didactic Education
11:00am – 12:00pm
Lunch Break
12:00pm – 6:00pm
PDO Threads Hands-
On Clinical Training
TOPIC/DATE
TIME
ACTIVITY
PDO Threads Hands-On Clinical Practice
Day 2
8:30am – 9:30am
Question & Answer
9:30am – 12:00am
PDO Threads Hands-
On Clinical Training
12:00am – 1:00pm
Lunch Break
1:00pm – 6:00pm
PDO Threads Hands-
On Clinical Training
The Benefits of PDO Threads
PDO threads are an excellent treatment option for clients who aren't ready for a face lift surgery. This non-surgical face lift utilizes monofilament fibers, which dissolve over time, to lift and reposition the skin in order to accentuate the cheeks, diminish the jowls and tighten the jawline.
This medical aesthetic treatment can be combined with Botox, dermal fillers and other injectables to achieve optimal results. The procedure takes 30 minutes or less to perform and the side effects are mild as recovery time is minimal. It takes 4-6 months to fully absorb the sutures as the skin heals/builds collagen.
The benefits of PDO threads include:
New collagen stimulation
Increased skin rejuvenation
Skin lifting and brightened skin tone
Instant and sustained increase in volume
Improvement in skin wrinkles for 12 to 18 months
No surgery and minimal downtime
---
What Kind of Revenue Can PDO Threads Generate?
| | | |
| --- | --- | --- |
| INDICATION | DURATION OF PROCEDURE | AVERAGE REVENUE |
| Lips | 5-15 mins | $350 |
| Smoker's lines | 5-15 mins | $300 |
| Marionette lines | 5-10 mins | $500 |
| Jawline & Cheek Lift | 15-30 mins | $1,500 |
| Eyebrow Lift | 15-30 mins | $1,200 |
| Neck Lift | 15-40 mins | $1,200 |
Register Today To Become an Expert At PDO Threads
What are you waiting for? Learn a new, highly profitable, non-surgical technique to create dramatic results for your patients while adding additional earning potential with your employer or an additional revenue stream to your practice.
If you want to become an expert on the industry's most in-demand cosmetic treatments to treat multiple skincare needs, consider PDO threads training at National Laser Institute. You will be prepared to confidently provide these treatments to your patients in a safe, professional and efficient manner.
Medical Professional Testimonials
Why Medical Professionals Choose NLI
The Botox and fillers class offered a lot of hands-on experience. I gained a great deal of confidence in my ability to perform treatments, especially since the instructors are right there to guide and encourage you.
Eva S. Estes RN
Absolutely loved my experience. I learned so much and am excited about this journey of doing Botox and fillers. I am definitely planning on taking more classes. I would recommend your classes to anyone inquiring about aesthetics! Thank you so much!
Mary Beth Medina, MSN FNP-C
National Laser Institute took me from a RN with 0 experience or knowledge in medical spa knowledge to a RN that feels confident performing services to the community in my hometown in Northern Canada. There is little opportunity here to experience these services, and I'm so happy I can bring my knowledge and treatments here. Thank you, National Laser Institute!
Rebekah Daigle
View hundreds more medical professional testimonials here!
All CME Courses at National Laser Institute
Looking for CME classes and CE courses? Browse our course selection below!
Ultimate Courses (Most Popular):
14 Days of Cosmetic Laser & Injectables: 5 Days Laser Training, BOTOX®/Dysport®, Dermal Fillers, Intro To Advanced BOTOX®/Fillers, Clinical Advanced BOTOX®/Fillers, Platelet-Rich Plasma (PRP), Advanced Platelet-Rich Plasma (PRP), Body & Veins & 2 Days PDO Threads
9 Days of Cosmetic Laser & Injectables: Laser Training, BOTOX®/Dysport®, Dermal Fillers and 2 Days Advanced BOTOX®/Fillers
Get Started Courses:
Looking For A Weekend Course?:
Medical Director Course: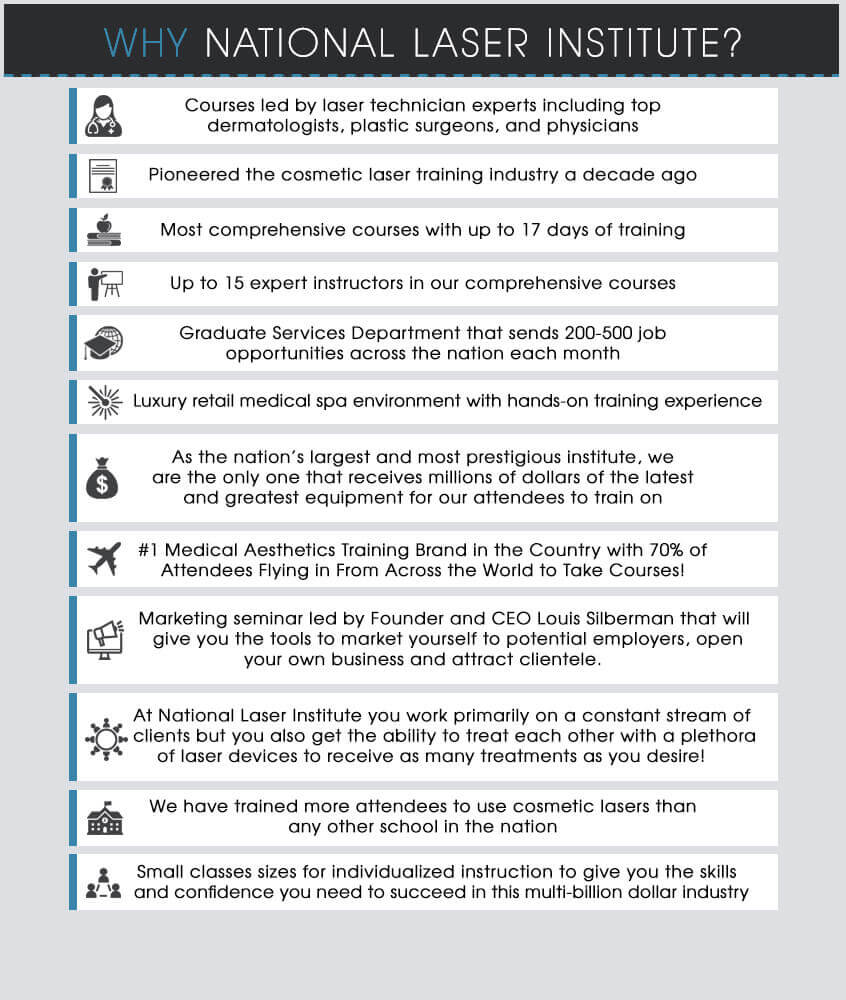 Classes are offered every month, click here to view the schedule! For more details on our PDO Thread Lift Course, please give us a call at 800-982-6817 or fill out our form on the right.