Upcoming Boston Laser Training Course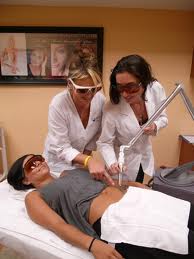 Cosmetic laser training is a great route for people looking to enter the health and beauty industry, even before attending aesthetic school. This is because laser training takes only a few weeks whereas aesthetic school can take around six months to complete. Receiving laser training prepares people of the field of medical aesthetics and also prepares them for aesthetic school.
The fact of the matter is the cosmetic laser industry is growing more and more each year. Clients are looking for advanced laser treatments that won't leave them in bed recovering for weeks, but will also give them dramatic results. Over the past decade, laser treatments have grown, advanced, and improved. Treatments like laser hair removal, laser tattoo removal, and laser wrinkle reduction are able to give remarkable results without the downtime.
We are the leader in the medical aesthetics industry, providing top-of-the-line hands-on laser training for students. Unfortunately, we're not located all over the United States. That's why we have a destination course laser training program that's coming to Boston this fall! We're excited to provide quality laser training for students interested in new laser technology. Students will receive both lecture and clinical training with our laser courses, learning some of the top treatments that include:
Laser Hair Removal
IPL (Photofacial)
Skin Rejuvenation
Laser Tattoo Removal
Radiofrequency Skin Tightening
Cellulite Reduction

This is a seven-day course that provides detailed information about cosmetic laser treatments from experts in the field. Attendees also have the opportunity to earn Laser Safety Officer Certification.
We're proud to say that we've been recognized as gold standard education. We have also earned an A+ rating at the BBB as well as many excellent reviews. If you want to learn more about Boston laser training or National Laser Institute, don't hesitate to call us at 800.982.6817.